Biography: Congressman K. Varadachari
Mr.Varadachari was born on July 7th, 1890. After graduating from Madras Christian College, he took up law and was called to the Bar in 1918. He began practicing as a lawyer in Chittur.
He began taking active interest in politics form 1917. He is a father of the Congress Party in the Chittur District Board, and a member of the Chittur Municipal Council.
He has been the chief Secretary of the Chittur District Congress Committee since 1934, a member of the Andhra Provincial Congress Committee from 1936 and a member of the A.I.C.C.
He took part in the Civil Disobedience campaign in 1931 and was arrested, but was left off during the trail.
He was adopted as a Congress candidate during the last elections, and represents the Chandragiri-Kalahasti taluqs in the Madras Legislative Assembly, securing a huge majority against his powerful zamindar rival.
He is a very popular figure in the Andhra province and is much loved and respected by the public
K.L. Kamat/Kamat's Potpourri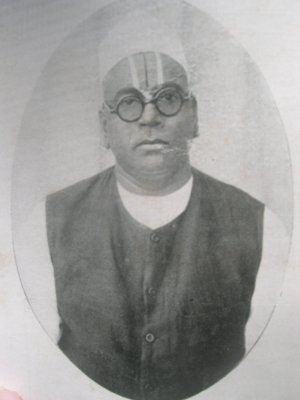 K. Varadachari
Congressman Varadachari fought for India's freedom. 1938 Portrait, Chandragiri


Source: Haripura Congress Souvenir, 1938