Biography: Khusalchand Khajanchi
Mr. Khajanchi was born at Seoni, December 9th 1897. He was educated at Nagpur. As a student he was extremely popular and evinced a keen interest in literary activities. In 1925 he was elected the Vice President of the Chanda Municipality. For six years he filled with distinction the Presidential Chair. His mayoralty witnessed a period of unprecedented progress.
The city was flooded by jets of electric glare. It was sprinkled with a welter of parks. Primary education was made compulsory. Charaka and Thali were introduced in schools. The tax on Khadi was removed and a special annual grant was given to the Spinners Association. The city began to pulsate with a new life.
K.L. Kamat/Kamat's Potpourri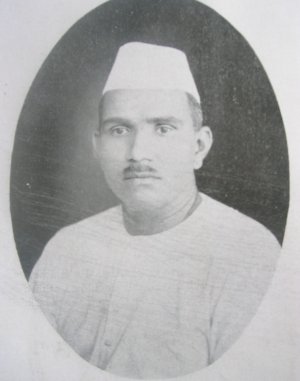 Khusalchand Khajanchi


Mr.Khajanchi was the secretary of the Red Cross Society, the Victoria Hospital, the Seva Samiti, the Hindi Vachanalaya and other institutions too innumerable to mention. He is now the President of the Chanda Educational Society.

He is a man profound in feeling. every fiber in his chest echoed to the nations call. His apostolic devotion to the service of the poor brought into light his radiant sympathy.

He is the President of the District and Taluka Congress Committee. He participated in the Civil Disobedience Movement and courted imprisonment twice. He is elected to the Provincial Assembly from the Chand-Wardha District Urban Constituencies.




Source: Haripura Congress Souvenir, 1938