Biography: M.S. Kamath
Mr. Madhu Alias Srinivas Kamath is a well known musicians in Karnataka, Maharashtra, Goa and other states. This is due to his versitality along with the rich resonant voice which is perfectly trained to classical, semi classical and all varieties of light music like bhavageets, gazals, geet bhajans and abhangs.
M.S. Kamath was born in a family of artists in Mangalore in1947. His initial training in music started under his father and later under R.N. Joshi of Belgaum and Mangeshnath Govekar form Goa, finally he was trained by Pandit Basavaraj Rajguru.
He joined Syndicate Bank and worked in different places. But music being his first love, he put in lot of hours for 'riaz'(wherever he went), to emerge as a 'A' grade vocalist in All India Radio and Doordarshan. He has by now more than thousand performances to his credit.
He took voluntary retirement from bank service, to devote himself fully to the cause of music. In year 2005 opened a music school in Malleswaram neighborhood of Bangalore, which has a musical name 'Swar Saptak'. He wants to give free lessons to the blind and the handicapped.
Picture Courtesy: M.S. Kamath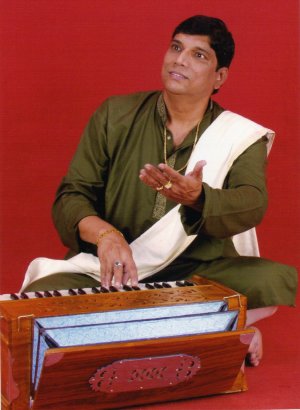 Musician M.S. Kamath

The range of Madhu Kamath's rendering as vast as touching. Sugam sangeet, Thumri, compositions of Haridasas, Vachanas, folk, ghazals, film songs, pop music. But he outshines in the varities of Geet-like Geet Ganesh (songs on Ganesha- The Elephant God), Geet Datta(traya), Geet Sai (Bhajans on Sai Baba) etc.
M.S.Kamath himself has composed and sung more than four hundred songs in Konkani, His Konkani songs are broadcast from different TV Channels and All India Radio stations.
Geet Ramayan in three languages is his forte. He can sing in Marathi, Konkani and Kannada languages. He has more than five hundred concerts so far.
He has Kannada Geet Ramayan cassettes in five parts which are available. No less than Late Sudhir Phatke doyen of Marathi Geet Ramayan has highly appreciated the Kamath's rendering in Kannada.
M.S. Kamath is a widely traveled man. he has given concerts in all important musical institutions of the country as also in Singapore, Malaysia, Bahrain, Mauritius,Sri Lanka and Nepal.
Great musicians like Gangubai Hanagal, Basavraj Rajguru, Manikverma etc, immensely liked his style of rendering as also stalwarts of Cineworld like Nasiruddin Shah and Nadim Shravan who studied under M.S. Kamath. In fact many composers have consulted him informally. He is an established composer and writer as well.
Source/Biographer: Jyotsna Kamat, 2005