Biography: Naguvanahalli Naranappa
Painter Naguvanahalli Naranappa was a famous artist of Mysore traditional paintings during the 19th century. Unlike prominent artists of his time, his patronage did not come from royalty, but instead from temples and private collectors who were attracted to his depiction of Lord Rama in his works.
K.L. Kamat/Kamat's Potpourri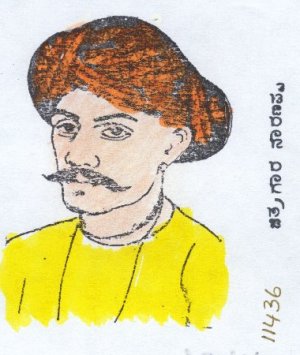 Artist Naranappa
Naguvanahalli Naranappa was a famous 19th century artist of Mysore
The coronation of Rama (Sri Rama Pattabhisheka) is Naranappa's popular themes, and his works are distinguished for there vibrant color schemes and delicate gold work. His depictions of Lakshman, Hanuman in his paintings must be studied by students of art for the emotions expressed by them.
Reference:
S.R. Rao and B.V.K. Sastry, Traditional Paintings of Karnataka, Karnataka Chitrakala Parishath, 1980

See Also: