Biography: Timmappa Rudrappa Nesvi
Mr.Nesvi was born at Deevizihalli in 1900. He passed his B.A. examination of the Bombay University in 1929 and conducted a no-tax campaign in his Taluka of Kod during the same year. He was detained in prison as a detune. After release he went into hiding and baffled the vigilance of the police. From his secret resort he guided the Civil Disoobedience Movement in towns of Sirsi and Siddapur. He courted imprisonment and was sentenced to two years rigorous imprisonment and a fine of Rs. 200. He conducted Peasant Classes, Ryot Conferences and is the Vice President of Taluka and District Congress Committee and is a member of District Local Board, Dharwar.
K.L. Kamat/Kamat's Potpourri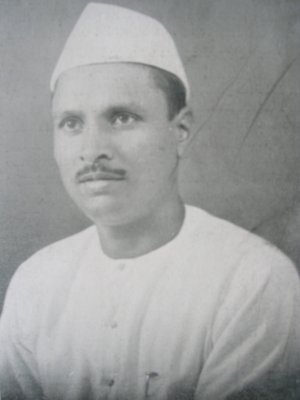 Timmappa Rudrappa Nesvi

He is elected to the Bombay Legislative assembly from Dharwar South. He is now a Parliamentary Secretary to the Hon'ble Mr. M.Y. Nurie, Minister for Public Works.
Source: Haripura Congress Souvenir, 1938

See Also: