Biography: Pandit Ragunath Shai Shukla
Pandit Shukla was born at Etawah in November 1894. The boy was brought up in an intensely religious atmosphere, and was well versed in Ramayana and Mahabharata at an astonishingly early age of eight.
The Bengal partition and the Swadeshi Movement crated a great impression on him, and while yet a High School student he began taking part in politics. In 1916 he attended the Congress as a delegate. The same year he sat for his B.A.
In 19221, when the non cooperation was launched, he had become an experienced Congressman and led the movement at Etawah. He was imprisoned no less than five times for his political activities, and his arms license was cancelled.
He is the President of the District Congress Committee and member of the A.I.C.C.
K.L. Kamat/Kamat's Potpourri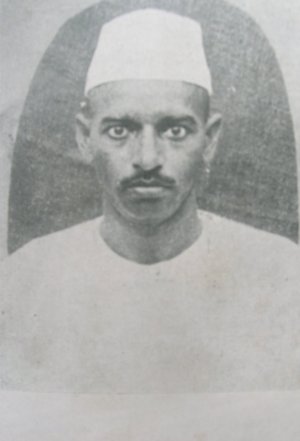 Pandit Raghunath Shai Shukla



Source: Haripura Congress Souvenir, 1938