Biography: Swami Sahajanand Saraswati
Swami Sahajanand Saraswati was born in 1889(?). He assumed the monastic order at the age of eighteen. He is a Dandin Sanyasi and belongs to the School of Sankara. He is a profound scholar in Sanskrit and Hindi
From 1914-1920 he served as a political worker. In 1921 he participated in the Non Cooperation Movement. He was arrested and sentenced to thirteen months imprisonment. In 1929 he founded the Bihar Provincial Sabha. Ever since he continues as President. He presided over the All India Kisan Sabha held at Lucknow in 1936. He is at present its General Secretary.
K.L. Kamat/Kamat's Potpourri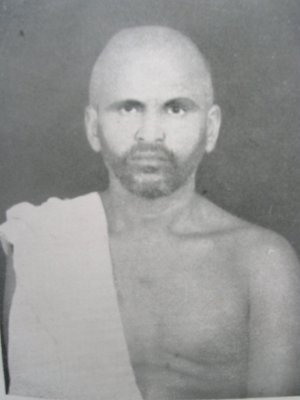 Swami Sahajand Saraswati
We rarely see ascetics who pursue spirituality participate in political and social reform. Sahajanandji was one of those rare freedom fighters.
Sahajanandji is a member of the A.I.C.C and the B.I.C.C. No figure in the Kisan movement has a wider circle of admirers than him. Rarely as a Sanyasi (ascetic) so closely identified himself with a political movement as he has done. He is one of the most lovable and human of men. As a patriot he is revealed in his life-long work to the Congress. His faith in his political creed is unbending.
In the Kisan movement there may be more brilliant intellects, more striking masters of debate but there is no man who is more gifted with the various qualities of mass leadership.
Source: Haripura Congress Souvenir, 1938