Biography: Sarat Chandra Chatterjee
Born: 1876
Died: 1938
Sarat Chandra, a household name in Bengali literature, rose to great heights in an astonishing short span of time. Through the starting characters of his novels, he stirred many minds and made them restless. An iconoclast by conviction, he espoused the cause of radial social reforms and through his writings created an awareness of social and moral values. His monumental novel "Pather Dabi" moved many young revolutionaries of his time and instilled in term a burning passion for freedom.
V.N. O'key/Kamat's Potpourri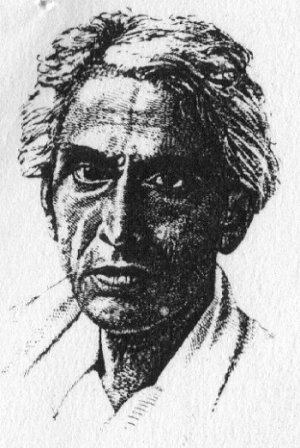 Sharat Chandra Chatterjee
Portrait in India ink by V.N. O'key
See Also
Sonar Bangla -- Kamat's controversial travelogue of West-Bengal; pictures, cartoons, letters and interviews.