Biography: Sitaram Sakseria
Sitaram Sakseria (a.ka. Sitaram Saxeria and Sitaram Seksaria) is one of those rare men who live for an idea. He would go to the stake rather than surrender a least fragment of this. It is this element in his make up that has won Mr. Sakeria lasting fame.
He is known to fame as one of the architects of the new social structure. over the embers of the past he desires to erect a new order. His intense realism is the key to his career.
Mr. Sitaram was born at Nawalgarh. Early in life he took to business. By his energy and tact he rose to fame. In 1916 he started "Gnana Vardhini Sabha" to promote to weal of the Marwadi community. Then he made a debut into social activities. He dropped on the conservative society not a damp squib but a deadly shell by championing widow marriage. As a result he had to remain outside the pale of his community.
K.L. Kamat/Kamat's Potpourri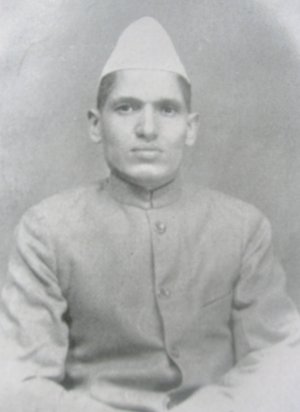 Sitaram Saxeria


In 1931 he participated in the Civil Disobedience Movement. He actively worked on the foreign cloth Boycott Committee. He successfully conducted a Khadi Bhandar at Calcutta. He courted imprisonment thrice during the struggle. Since 1917 he is ceasinglessly working in the A.I.C.C and the District Congress Committee

He is an enthusiast on Hindi literature. He has instituted an annual prize of Rs 500 styled "Saksena Parikshak"to be given to the best lady Hindi writer for the year. He gave a munificent gift of Rs 25,000 for giving a fillip to the literary activities among women.

He is connected with the working of myriad institutions, like Prayag village Mahilapith, Bihar Vidya Mahila Pith, Marwari Balika Vidyalaya and Dr. Tagore's Viswa Bharati.

Mr. Sitaram has the enthusiasm of humanity. This enduring element has given a somber charm to his personality. His intellectualism is of a lofty order. His splendid gifts to promote female education will make his name shine on the tablet of history as a great social reformer. He is a sterling patriot. His lips are hot with the blood of beats of patriots. In person he is of medium stature, wit shining eyes reflecting the nobility of his soul, with thick set jaws showing his iron resolve, with his broad and ample forehead, with a long nose the rudder of his face, his whole face dissolves into an expression of sweet benevolence.

His large hearted humanity, his unstinted patriotism and his intellectual fervour have enabled him to enter into the temple of fame.


Source: Haripura Congress Souvenir, 1938