Biography: T. Prakasan
If there was a man possessed of an idea, prepared to sacrifice his all, prepared to undergo the utmost physical pain and mental torture, ready to face undaunted the greatest reverses of fortune, only to see his idea fulfilled or perish in the attempts, that man is none other than Mr. T.Prakasan. He has dedicated his life to the sacrifice of the motherland and nothing has shaken his resolution to see her free- neither the sneer of its enemies nor the plaudits of his admirers.
At the clarion of Gandhiji in 1920, he threw away a lucrative practice at the Bar, and entered the thick of the struggle. He had the honor of being the first Congress leader to be arrested by the Government. This only added to his enthusiasm to serve the country, on his release he started the "Swarajya" to do propaganda on behalf of the Congress.
K.L. Kamat/Kamat's Potpourri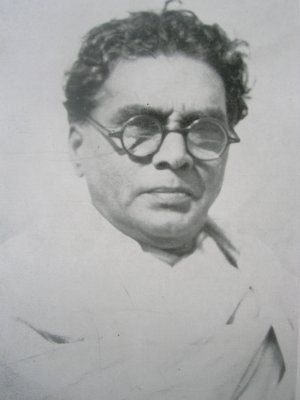 T. Prakasan

Under his guidance the "Swarajya" became the power in the land. His vigorous editorials championing the cause of the country were read and reread and created a deep impression in the minds of the public. Representing as it did, the extreme edition of the Congress, the fortunes of the paper waxed and waned according to the changes in political tension.
In 1926 Mr. Prakasan was elected to the Central Legislature. As a legislator he made a mark there in the company of much stalwarts as Pandit Motilal. In 1930 he resigned the Assembly membership in obedience to the Congress mandate.
He led the Salt Satyagraha Campaign at Andhradesa and courted imprisonment. He is the President of the Andhra Provincial Congress Committee.
He has all the qualities of an orator: a commanding presence, a voice of the most marvelous intonation and a clear, self-possessed trenchant style. The fairies have so lavishly bestowed upon him a genius for eloquent speech and sustained effort. As an ideal Karma Yogi, he believes in action, selfless, disinterested action and therein lies the secret of his success.
The Revenue Portfolio is entrusted to his care in Madras Cabinet.
Source: Haripura Congress Souvenir, 1938