Biography: Artist Tippaji
Tippaji was one of the most prominent painters of Mysore traditional school of art. He was born circa 1780 A.D. and died in 1856 A.D. He hailed from a well known family of artists of Shimoga in the plains of Sahyadri mountains and forests. Inspired by nature, his style considerably differs from his contemporaries in the treatment of landscapes [1]. He learnt many skills from the Gudigars who were a temple building community in the area. Tippaji was a great illustrator and his command of the lines gave him an ability to extend the Mysore traditional paintings to ultimate details. This is why his paintings stand out even under a magnifying lens for their authority his control on the brush -- sometimes using a single haired brush.
The magnum opus of Tippaji is the "Vishwarupa" or the "Revelation of the Omnipresent", painted in 1857 that depicts great many details described in the Mahabharata epic. One is wonderstruck by the imagination of the artist as he depicts the entire universe on a 50" X 58" sized paper.
© K. L. Kamat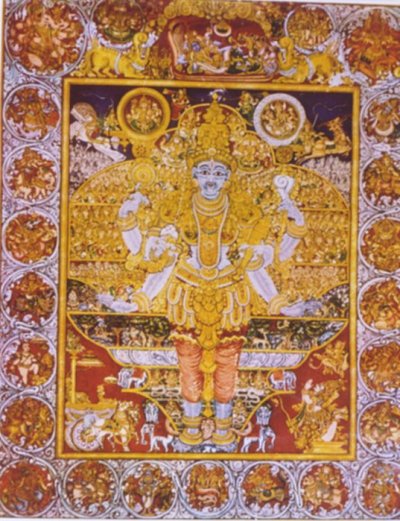 Cosmic Form of Lord Vishnu
Detail from 19th century Mysore Traditional painting "Vishwarupa Darshan" by artist Tippaji

Reference:
[1] S.R. Rao and B.V.K. Sastry, Traditional Paintings of Karnataka, Karnataka Chitrakala Parishath, 1980

See Also: