Biography: Hari Vithal Tulpule
As a patriot the place of Mr.Tulpule in Indian Nationalism is secure. His services to the Congress are marked by fidelity and a deeply disinterested quality.
He is a Congressman not by inspiration but by conviction. His uniqueness lay in high conception of his task.
Mr. Tulpule was born at Poona, June 11th, 1885. The time of his youth was an epoch of Indian Political unrest. So he was an emanation of the spirit of the age. He was educated at the Deccan College and graduated from that institution in the 1908. He attended the Surat Conference in 1907. Mr. Tulpule very successfully organized the District Conference at Janoli under the President of Mr. M.R. Jayakar. That was probably the last United Conference in Poona District.
K.L. Kamat/Kamat's Potpourri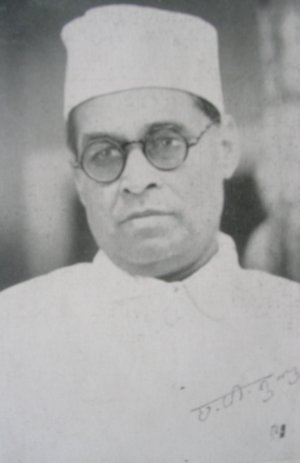 Hari Vithal Tulpule

For many years he was the President of the Poona City Congress Committee. For three years he was the President of the Poona District Local Board. In1929 he was elected the President of the Poona City Municipality. He is elected to the Assembly form the Poona West General Rural Constituency.
He is a man of outstanding abilities. His fame is bound up with the services to the Congress. He has awakened great enthusiasm for the Congress ideal. It is this dynamic quality that accounts for his immense popularity.

Source: Haripura Congress Souvenir, 1938
See Also:
Congress Archive -- Rare pictures and artifacts from the archives of Indian National Congress. A pictorial story of India's freedom struggle.