Biography: Pundit Vishwambhar Dayalu Tripathi

(b. 5th October 1899, d. 18th November 1959)

Pandit Vishwambhar Dayalu Tripathi was born in 1899 at Bangarmau, in Unnao District in what is now Uttar Pradesh. He had a brilliant academic career with M.A. (History) and L.L.B. (Gold Medal) and he gave up his studies in response to the call of the Congress.

He plunged headlong into the political arena and devoted every minute of his time for furthering Congress work. He did very valuable work in his district and soon became one of the most popular leaders.

When the Non-Cooperation movement was suspended, he joined the college and took his degree in 1924. The same year he joined the M.A. and Law classes in Lucknow University. After passing the examination in 1926, he was awarded a fellowship for research work in Ancient Indian History, but his political activities prevented him from continuing his academic career.

He joined the Unnao Bar in 1926, and soon won laurels in his profession in spite of spending most of his time for Congress work.

K.L. Kamat/Kamat's Potpourri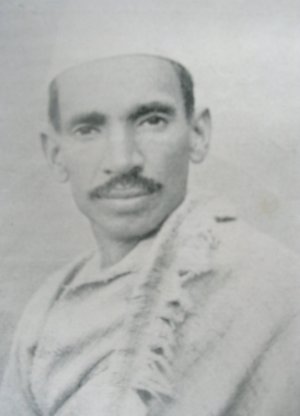 Pandit Vishwambhar Dayalu Tripathi (1899-1959)

In 1930, giving up law, he joined the Salt Satyagaraha campaign and was jailed. Hardly had he come out of prison than he was again arrested. He gave his own house for Congress work where he, Congress office, and ashram have been functioning.
He was released in 1932, and he became the Dictator of the United Provinces. On July 2nd, he was arrested again and sentenced to one year's jail. On his release, he established Kisan Seva Sangh and organized meetings in the District. For the fourth time, he was sent to jail for a year for preaching non-payment of rent, but the sentence was quashed by the High Court.

He was a live wire worker and was always in the forefront of the independence struggle. He had a record of seven convictions for his political work.
He had a long record of constructive work to his credit. In 1921 he first became a member of the Provincial Congress Committee. From 1921 to 1926, he was the Secretary of the Unnao District Congress Committee and then became its President. He was the Chairman of the Reception Committee of the Provincial Congress held at Unnao in 1936. He was also a member of A.I.C.C.
He represented Unnao-Safipur constituency in the Provincial Assembly and served as a member of the Agrarian Committee appointed by the Provincial Government to revise the existing rent and revenue policy.
Vishwa Deepak Tripathi/Kamat's Potpourri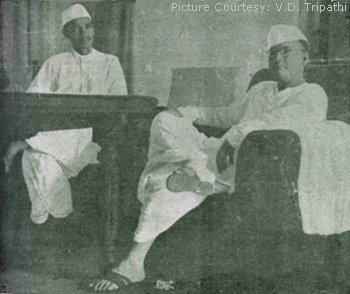 V. D. Tripathi and S.C. Bose
Vishwambhar Dayalu Tripathi with Subhash Chandra Bose in 1939

Tripathi was a close associate of Subhash Chandra Bose. When Bose resigned as President of the Indian National Congress to form the Forward Bloc in 1939, Bose was its founding President, and Vishwambhar Dayalu Tripathi its founding Secretary.


Just before independence in 1947, Vishwambhar Dayalu Tripathi was a Member of the United Provinces Assembly and was elected to the Constitutional Assembly. He served as a Member of the Lok Sabha from 1952 to 1959, when he died. Other positions he held were: Chairman of the Commission for the Development of the Andaman & Nicobar islands, as Chairman of the Zamindari Abolition Commission and Chairman of the Recognition Committee of High School & Intermediate Board of Uttar Pradesh. He was founder of Dayanand Subhash National Degree College and many other educational institutions.


Sources:
Haripura Congress Souvenir, 1938
Tripathi Family (with special thanks to Vishwa Deepak Tripathi), 2005