Biography: V.I. Munuswamy Pillai
The Honorable Mr. V.I. Munuswamy Pillai was born in 1889 at Ootacamand. To solve the problem of bread, he was obliged to take up a job at the early age of twenty, and joined the commercial firm as a clerk.
In 1925 he left service and started his own business as a general contractor. The next year he was nominated to the Legislative council where he expounded the cause of Harijans.
K.L. Kamat/Kamat's Potpourri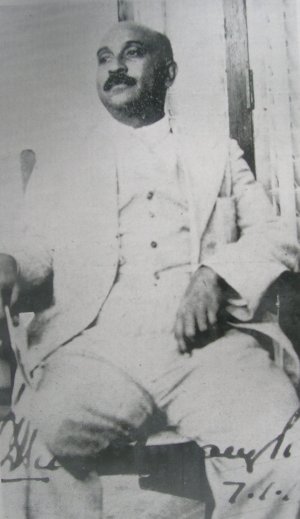 V. I. Muniswamy Pillai
Pillai was elected to Madras assembly on a Congress ticket, and served as the Minister for Agriculture
The cause of social justice is flaming passion with him. He took a leading part in several anti-untouchability organisations and was a member of the Nilgris District Board, and of the Madras and Annamalai Universities. He is also a trustee of the Lawley Institute, Ootacamund. He was the Honorary Secretary of the Madras Provincial Adi-Dravida Mahajana Sabha, Chairman of the All India Depressed Classes Federation. He was also President of the Kerala Adi-Dravida Mahajana Sabha.
When the Congress made the cause of Harijans their own, Mr.Muniswamy Pillai placed his varied experiences as a social worker at the disposal of the Congress and continued his work under the tricolored flag of the depressed classes, and has marvelously succeeded in effecting the moral and spiritual awakening among the Harijans.
During the last elections, he was elected to the Madras Assembly on the Congress ticket and holds the Portfolio of Agriculture in the Cabinet of C. Rajagopalachari.
Source: Haripura Congress Souvenir, 1938