Biography: President V.V. Giri
Varahagiri Venkata Giri was born on August 10, 1894 at Berhampur (in present day Orissa) in a nationalist family. An active public worker since his student days, he has always been in the forefront of the national struggle for freedom. While studying law in Ireland, young Giri developed contacts with Irish leaders like De Valera, Michael Collins and was inspired by the revolutionary and trade union activities of the Irish freedom struggle. But his very first contact with Gandhiji in London in 1914 brought a new turn to his life. On return to India, Giri became an ardent disciple and follower of Mahatma Gandhi.. Thereafter, he took part in the different freedom movements launched by Mahatma Gandhi and courted imprisonment several times. A labor leader of international renown, Giri is one of the patriarchs of the Trade Union Movement in India. In pre-Independence days Giri organized many strikes and fought many battles for the economic and social uplift of the labor class in India. He became the spokesman of the labor both in and outside India and attended the Second Round Table Conference held in 931 in London as a representative of Indian labor. In 1934 Giri was elected to the Central Legislative Assembly and made a mark as a parliamentarian. When the provincial ministries were formed by the Congress in different provinces, Giri became Minister of Labor, Industries, Co-operation, Harijan uplift in Rajaji's cabinet in the Government of Madras and pioneered many schemes for the welfare of labor and the down-trodden. After the Congress ministries resigned in 1939 as a protest against involving India in World War II by the British without consulting Indian opinion, Giri was in the forefront of the Quit India Movement and was sentenced to fifteen months of rigorous imprisonment. In 1946 Giri was re-elected to the provincial assembly and became Minister of Labor and Industry in the Government of Madras.
K.L. Kamat/Kamat's Potpourri


V. V. Giri (1894- 1980)
Varahagiri Venkata Giri was a prominent Congressman and went on to serve as the President of India during 1969-1974
After India's independence in 1947, Giri became the First High Commissioner of India in Ceylon and exhibited rare diplomatic skills and negotiating ability in dealing with the problems of "stateless" citizens. He became Minister of Labor in the Central Cabinet in 1952 but he resigned the position of Minster two years later on the issue of implementation of Industrial Tribunal Award on the Banking Industry. Giri was appointed Governor of Uttar Pradesh in 1957. That marked the beginning of a new era in his public life, that of an elder statesman. From 1957 to 1967 he was Governor in the States of Uttar Pradesh, Kerala and Mysore. He not only held these positions with dignity and distinction but with the wisdom of his age and experience he infused new spirit in the role of a Governor. He was elected Vice-President in May 1967 and two years later in August 1969, he was elected President of India
K.L. Kamat/Kamat's Potpourri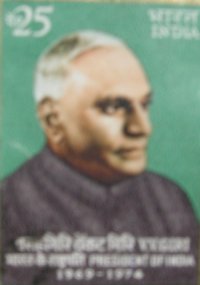 President V.V. Giri
From Indian Postal Stamp
It was during his presidency that India fought its third war against Pakistan and created the nation of Bangladesh.
Sources:
Press Information Bureau, Government of India, 1974
Haripura Congress Souvenir, 1938