Biography: Yakub Hasan Sait
The Honorable Mr. Yakub Hasan Sait was born at Nagpur in 1875. After completing his education at the Aligarh University, he chose commercial career at the age of eighteen, and started business at Bangalore.
In 1901 he shifted to Madras, and straight away entered public life, being nominated a member of the Madras Corporation. He was one of the members of the Muslim League, and twice visited England, once on behalf of the League and later on as a member of the Khilafat Deputation, and gave evidence before the joint Parliamentary Committee.
K.L. Kamat/Kamat's Potpourri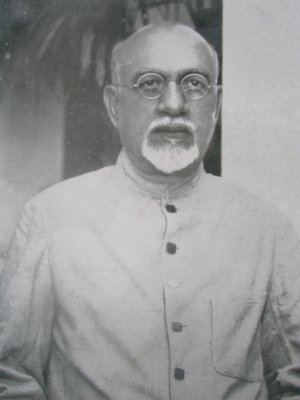 Yakub Hassan Sait

In 1916 he was elected to the Madras Legislative Council, and later represented the South Indian Chamber of Commerce in the Harbour Trust. He was also a member of the Madras University Senate.
In 1919 he took part in the Khilafat movement and on his return from England after giving evidence before the Joint Parliamentary Committee he joined the Non Cooperation movement.
He was among the first batch of Congress leaders to be arrested by the Government, being awarded six moths imprisonment for making a seditious speech at the Kerala Provincial Congress held at Ottapalam. His arrest created a great sensation among the public, as the idea of courting imprisonment was novel at that time.
On his release he began taking active part in the Khilafat agitation, and was the foremost leader in the Madras Presidency. His courage and impassioned speeches created a great impression among the audience. In 1921 he was again arrested and awarded two years imprisonment.
Later he resigned form the congress and entered the Madras Legislative Council, where he was the leader of the Muslim Party. Recently he joined the Congress and fought the last Provincial elections on the congress ticket, and was returned to the Assembly by an overwhelming majority.
He is the only Mohammedan Minister in the Madras Cabinet being in charge of the portfolio of Public Works Department (PWD)
He is a man of deep and self-sacrificing convictions. His intellectual force and his political capacity have made a way for him for legislative influence. He has thrown his soul into every great political movement. He has the inborn genius of leadership.
Source: Haripura Congress Souvenir, 1938