Education in Karnataka through the ages
by Jyotsna Kamat
Education of the Masses
Education in medieval Karnataka was not considered the sole responsibility of the state, as it is understood in modern times in India. In its own way, society provided instructions to different sections as needed at the time, through different agencies. Dharmaprasangas or religious discourses, Harikathās, recitation of purānas, and gōshthis (religious congregations) were some of the agencies through which religious and spiritual education reached the masses. According to C. Sivaramamurti, "the temple and its precincts provided the meeting place for all religious-social activities…It was the hub on which revolved the whole life of the village. The temple provided for the education of the scholars, amusement of the public and for the piety of the worshippers."
Most temples provided illustrated lessons on sacred lore. It was a common practice to carve scenes from the Ramayana, Mahabharata, Shivapuranas and Bhagavata on the walls of courtyards. Mythology pertaining to the principal deity of the temple also figured prominently. Even smaller temples depicted various avatārs or incarnations of Vishnu, and exploits of the main deity. Stories from the Panchatantra, Shivapuranas or Jaina-purānas found their way into certain temples and mathas , which provided moral lessons besides religious training to the commoners. The temples had various musical instruments with dedicated volunteers to play them. Spacious temple courtyards provided a musical atmosphere throughout. Most of the musical recitals and dance dramas were held in the temple precincts. Ceiling paintings and sculptures depicted life-sequences and adventures of great devotees. The sanctum sanctorum with a fully decorated deity evoked awe, humility and devotion especially when the panchārati (paving of sacred light) was performed, and melodious music was heard at the auspicious hour, from various musical instruments in the temple.
Leisurely wanderings in the courtyard provided fun and entertainment, as these contained stone illustrations of everyday activities including acrobatics, dance gestures, games, transportation, comical sequences, family pictures, and erotic scenes as well. Youngsters and children looked forward to spending all their leisure time in the temple precincts.
Temples were also community centers, providing adult education. The purānabhatta (scholar who recited the purānas), combined the duties of teacher and priest1. He received remuneration in the form of land, a house or some cash for this service. Often, he was a preacher for the masses. Listening to his narration provided entertainment as well as education. All purānas are in verse-form, and by listening attentively, many learnt the sequences by heart.
In addition to the temples, Veerashaiva, Jaina, and Vedic mathas arranged for dharmaprasangas or gosthis (religions discourses). Kings, ministers and chieftains organized these events even when they went on tours or special missions. Stories pertaining to merit accumulated from various charities were narrated, in addition to dissertations on topics connected with philanthropic deeds. Besides this, lectures by distinguished scholars were also presented. People of a charitable disposition made endowments after listening to religious discourses. Heroism was extolled and sacrifices honored. Anecdotes of people who didn't lose courage in the face of adversity, were described. Truthful Harischandra, faithful Sita, and boastful Uttara Kumar were characters whose messages were imbibed by the members of the audience. The audience consisted of people who were mostly innocent of reading and writing, but were worldly-wise. A brilliant bhārati (a narrator of the Mahabharata) made use of his knowledge through illustrations, recitation or narration of stories and anecdotes of relevance2.
There were narrators of the Mahabharata and actors ( rangōpajivinas) who were experts at enacting various sequences from the classics. Reading out holy texts as well as listening to them was considered meritorious (see picture no. 81). Wealthy merchants, who made handsome payments to raconteurs, usually arranged for such recitals (see picture no. 82).
© K. L. Kamat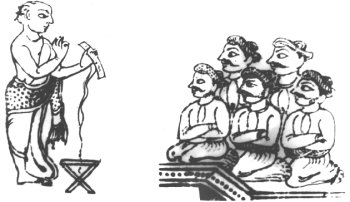 The Reciting Brahman
Illustration from Sougandhika Parinaya, 19th Century
The Haridasa movement in Karnataka gave new fillip to adult education. Right from Purandaradasa's time, songs conveying the direct message of purposeful living, pious life, the renouncing of superstitions, and of devotion to God were composed and sung by different Haridasas, to the accompaniment of stringed instruments, and became immensely popular.
Travel played an important role in the spread of popular education. All great ascetics and gurus from the days of Shankaracharya made it a point to travel the entire country in order to propound their philosophy. Public debates were organized in the visiting towns and cities where, followers of different faiths were invited to counter the visiting scholar. Local chiefs or administrators encouraged assemblies of learned people known as vidvatgosthis, panditasabhās or āchāryaparishad. The religious discussion was called a vāda and the orator, a vādi.
Ascetic teachers in charge of various mathas were required to tour villages in their jurisdiction, settling disputes relating to caste, conduct or creed. They answered questions and addressed difficulties faced by local followers and believers. At times they established schools in temples. Poet-ascetics such as Nayasena (who wrote the Dharmamrita, a popular Jaina classic), used to read aloud to the sangha (congregation) stories and anecdotes, which contained tenets of Jainism. This method of imparting knowledge of morals, history, religion, and pious life continued for several centuries.
After the Veerashaiva movement took root in Karnataka, peripatetic gurus (jangamas) contributed a great deal in popularizing the teachings of Basaveshvara . The framing and narration of stories based on the life and teachings of the founder of the faith was one of the very sound educational methods developed in India from Buddhist times. This art received fresh impetus in the 12th and 13th centuries in Karnataka: Shivamayidevi and Yeleshaketayya, both devotees of Lord Shiva, moved from place to place, narrating stories of great Shaivaite saints. Another devotee (shivasharane) of Shiva, Viradevamma was well versed in the vachanashāstras (epigrams of saints) compiled in books. She read out vachanas to women three times a day. She also recited them before the king and in learned assemblies, and was therefore known as Uggadisuva Kanne Viradevi or "reciting lady Viradevi".
Social and religious gatherings were held, where teachers gave discourses (pravachana), shivagosthis (telling of tales of Shiva), recitations of Shivapuranas. In these events the enactment of dramas and musicals were a common occurrence. Keļike or dance dramas on religious subjects were popular among followers of all faiths. The audience was comprised of devotees, poets, orators, musicians, merchants, and women of all ages. Citizens ( purajana) and their entourage ( parijana) enjoyed such all-night shows.
Some devotees adopted the folk arts to make a living (kāyaka), and through them spread the message of (realizing) God. They utilized various folk instruments such as the maddaļe (long drum), dhakke (flat drum), the kankari , and the ektāri (single stringed instrument) to sing compositions based on the life stories of different saints. Bahurupi Chowdayya wore an attire befitting the occasion, and changing them swiftly, as the role demanded. He was adept in the art of pantomime, as his name suggests. He enacted the life and message for Veerashaiva devotees, moving constantly from place to place.
The Haridasa movement gave new life to adult education. From Purandaradasa's time (in the 16th century), inspirational songs were composed, directing commoners to lead a purposeful life and sung by saints such as Kanakadasa, Mahipatidasa, Jagannathadasa, Helavanakatte Giriyamma, and Bhimavva. They composed devotional songs for all occasions. These included early morning hymns ( udayarāga), lulabies (lāli), prayers, wedding songs (sobāne), and songs for other auspicious occasions. These songs were simple, rhythmic and set to traditional tunes, with which housewives and villagers were already familiar. The songs were sung during the course of household chores, such as child-rearing, pounding rice, or fetching water. Then came Sarvajna, with his tripadis (three line ditties), which were sung and quoted by the pandits and the illiterate alike, for their eternal message of love, brotherhood, tolerance, right thinking and acting. The sarcastic punch of his witty remarks about human affairs endeared him to the masses. The compositions of Veerashaiva saints, Haridasa and Sarvajna, have been kept alive till today through an oral tradition spanning centuries, because of the universal appeal of their compositions.
Sage Siddheswara introduced the Kuchipudi dance school in the Bhagavata tradition, about three hundred years ago, in Andhra-Karnataka. Here was a rare case of a member of the Brahmin class taking to dancing and singing. Men enacted female roles and Kuchipudi became popularized by wandering troupes and dance dramas. Dance themes were based on anecdotes from the Bhagavatapurana, consisting mainly of the exploits of Lord Krishna. There were also Vipra-Vinodini or Brahmin entertainers who went from village to village, presented dance-dramas and received grains and clothes during harvest seasons3. These talented artists brought relevance to the art-form by satirizing the misrule, selfishness, cruelty and greed of the rulers and the rich. They brought in awareness to the populace, in addition to providing entertainment. A few among them did not even require attire, make-up and equipment, and could mesmerize the audience through sheer wit, histrionic talent and a resonant voice.
Another important agency of general education was the kirtan or Harikatha. It was a philosophical discourse interspersed with stories from epics and was devised to meet the needs of young and old alike. The Harikatha Vidvan was a singer, reciter, or dancer at times and also good at mimicry. A good voice and a sense of humor endeared him to his audiences, who waited eagerly for his arrival on special festive occasions.
The aim of all these agencies was to bring to the door of the poor, the humble and the illiterate, the highest products of the human mind and heart without having to make them read or write. Culture, not literacy, was the highest aim in ancient times. The aim of all ascetic teachers, purānas , kelike, Yakshagana, and Bhagavata melas was to impart practical and spiritual training, which helped people lead useful lives. The use of music, dance and various folk instruments helped proclaim the glory of God and also helped point out man's duty to man.

SII XX, no. 72, Epigraphia Carnatica, VI, Tn no. 133.
Dharmamritam III, verses 8-9: There were Veerasaiva Saranas who took up the kayaka or vocation of reciting puranas. Mayideva and Mallanarya among them were outstanding; Kanthiravanarasarajavijaya VII, verses 36,70,74. p144-150
Inscriptions of Vijayanagara times refer to grants to Vipra-Vinodins. Late Prof. K. Venkataramappa had seen such entertainers in his childhood; there were non-Brahmin Vipravinodins who performed magic shows as observed by Gadiyaram Ramakrishna Sharma. (See Appendix B.)

Education in Karnataka through the ages
Preface | Buddhist Education | Jaina Education | Palm-leaf Texts | Ghatikasthana | Education of Royalty | Community Education | Vocational Training | Education of Women | Physical Education | Among Muslims | Conclusions