Education in Karnataka through the ages
by Jyotsna Kamat
Physical Education
Since ancient times, people in India believed that the human body is indeed an instrument of dharma (shareeramevādya hi khalu dharmasādhanam). Hence the body is to be properly nourished, and maintained. In medieval Karnataka people gave as much importance to physical exercise as to literary education. The principle of "a sound mind in a sound body" was not only accepted but also faithfully practiced. The system of yoga was the first step in spiritual training. Yoga comprises full-fledged toning of the body and mind. It includes the use of various body postures to control breathing and muscle movements, and to help gain control over human passions as well. It was the general belief that this balancing of the body and mind led to intellectual strength.
Village schools were usually situated in the temple premises or in the courtyard of mathas, where children played after daytime lessons. Besides this, every village had one or two playgrounds, where sporting events and games were held during the annual fair of the village deity. These involved wrestling, boxing, mallakhambha (pillar acrobatics), the shooting of arrows, and demonstrations of strength such as weight lifting. Bigger grounds were reserved for ram-fights, buffalo fights, fencing and duelling. Various ball games, and the indigenous sports of kho-kho and kabaddi were common. Most childrens' sports in medieval India ensured body-development. The economy and variety of indigenous games were greatly admired by visiting foreign travelers.
© K. L. Kamat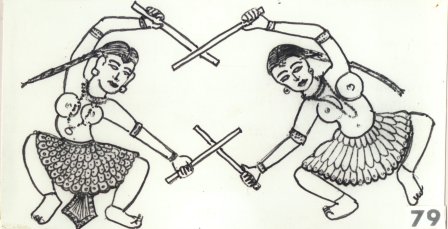 Girls Engaged in Stick Aerobics

The game of ālinerike involved riding on one another; boys were lifted on shoulders in pairs, and the raised youngsters tried to knock each other down to the sand below. Haruguppe was a native form of hop-step-jump, wherein boys had to jump from one sand heap to another (arranged at equal distances), and try to be the fastest to reach the goal. It is interesting to note that young women played this game as well. >Dānd (also Sāmu ) involves stretching the body while lying flat on one's stomach, and raising it slowly on the strength of one's arms while simultaneously controlling the breathing. It was a difficult exercise, but the whole body received the toning it required. Some youngsters performed dānds in the hundreds. Chinikolu (also called gillidāndu) >consisted of hitting a wooden ball with a wooden stick. Hitting one another with balls of cloth, hide and seek, and the game of pillars ( khambada gadane) were popular among children. Khambada gadane resembles the game of musical chairs: players clutched available pillars in temples or large mansions as soon as the song ended or a cue was given. Kabaddi was formerly known as gudugu. Kuntahalipe was a one-legged game. Many of these sports are mentioned by the poet Kumara Vyasa in his classic, while describing the childhood games of the mythological Kauravas and Pandavas that had come down to his times1. Ball games were popular with boys and girls alike.
Board games of cowries and pebbles were common among girls. Fugadi (holding hands and whirling around) and kuntāta, the one-legged version of 'tag', were other games played by girls
A garadimane or gymnasium was a must in every village, to which youngsters thronged every morning. There they played with lōdu, dumbbells, clubs, metal balls, discs and javelins (see picture no. 44). Akhādās (wrestling houses) were well equipped, and received state-patronage. From Chalukyan times (c.10th century) to the reign of the Wodeyars of Mysore (20th century), wrestling received special royal attention, besides being a very popular pastime among the laity till the date.

Manasollasa mentions special coaching provided to wrestlers. To warm up, the would-be-wrestlers had to do jog three miles early morning. This was followed by dands and sit-ups. Weight lifting was also undertaken (see picture no. 42) by the wrestlers in order to strengthen the body. After resting for a while, wrestlers descended into the wrestling pit filled with finely sieved sand. They saluted each other in traditional style and began the joust when a signal was given. Various grips (pēchu) were practiced and had Kannada names. Youngsters flocked to these bouts to cheer and to mimic the gestures of grown-ups (see picture no. 75). The wrestler's body was well massaged before the bout began, and dust was applied to wrestlers' hands in order to prevent them from slipping over the opponent's oiled body. Bhavishnu or future-wrestlers were fed on a special diet of black gram, meat, curds, flour mixed with milk, and clarified butter. They were specially guarded and prevented from spending time in the company of women2.
R. Seshasastry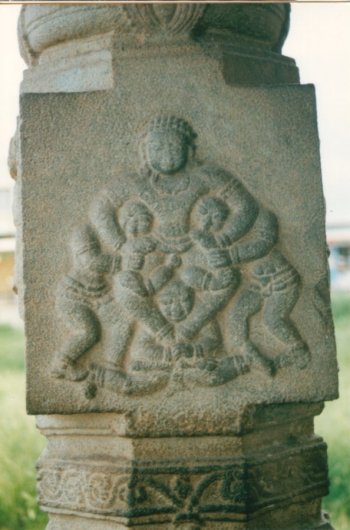 One Wrestler takes on Three
Detail from a pillar shows a wrestling move. Madhavaraya temple in Ananthpur District. Circa 15th century

Special officers (mallādhyakhsha) kept a constant watch over mallas or wrestlers, who were divided into three categories: jyeshthaka, antarjyeshthaka, and govala, somewhat along the lines of modern-day heavy, middle and bantamweight wrestlers. The king personally selected wrestlers for bouts, ensuring contests among equals, and inspected the oath-taking and saluting ceremonies. Monetary allowances were given to wrestlers and they were permitted to wrestle up to the age of thirty. In smaller towns, wrestlers were arranged into two parties, before the bouts were held. Winners were paraded through the streets. It was the dream of winners to receive a royal invitation to wrestling bouts held in Vijayanagar during themahānavami festival. These festivities lasted nearly a month, according to Domingo Paes. Some female wrestlers were also known. The wrestling motif was popular among sculptors of the period.
K.L.Kamat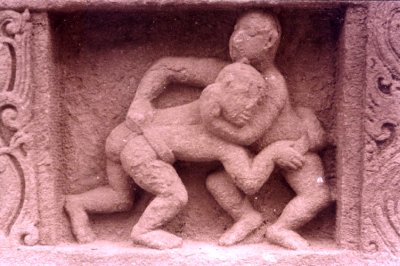 Wrestling Contest
16th century sculpture from Bhatkal
There appears to have been two types in wrestling, as observed by Paes. One emphasized the game of strength while the second was violent and resembled modern boxing. Nunez had seen that in some instances wrestlers struck and wounded each other with circlets and with points, which they were allowed to conceal in their hands. We have sculptural representations of both types of these martial sports (see pictures 75 and picture 76).

Garadis or village gymnasiums were the training ground for future soldiers, as these were equipped with lāthis, spears, clubs, maces, and shields3. Prince Kumara Rama received martial training in such a garadi.
Archery occupied an important place in the physical training of youngsters. Visual concentration and the coordination of hands, eyes, and feet were basic essentials in military training. Contests such as the matsyavēdha involved shooting an arrow into a revolving ball or a fish placed overhead, while looking at its reflection in the water below. "Drawing" the sketch of a date-tree with the help of rapidly-shot arrows was another feat4. Shooting arrows and throwing rocks from Doddabetta to Chikkabetta, two hillocks in Shravanabelagola, was popular in the 11th and 12th centuries and considered as acts of valor, as indicated by local inscriptions. Fights with a buffalo, a bull and an elephant were considered dangerous, but were highly applauded.
K.L. Kamat/Kamat's Potpourri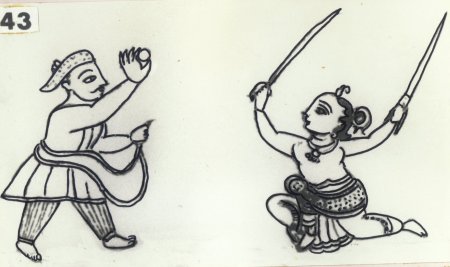 Prince being Trained in Sword Wielding
Illustration shows a teacher tuning the posture of a student while using two swords
Dueling or anka was a common sport. Duels were fought with fists like in boxing, and also with weapons such as swords, daggers and knifes. There was strict state control over dueling. These were fought as a result of rivalries arising over competition for women, over land and property disputes, for the exhibition of bravery, or in revenge and retribution for a crime committed. The strongest of ankas mentioned in the Manasollasa involved a swaggering desperado, who rode a buffalo and carried a torch in broad daylight, and threw a birudanka or a challenge to duel. The king was advised to discourage such combats and allow them only in exceptional cases5.
Gladiatorial games were known in medieval Karnataka. Races between elephants and men were one such sport. A proclamation was issued by beating a drum (dindima) that old men, pregnant women, children, and the crippled were not to move out in public thoroughfares, due to grave danger from excited and inebriated race-elephants. Drugs were administrated to make the elephants agitated. Runners were invited to participate in the race with infuriated elephants. Hardened criminals were also employed in these sports.
The race took place in a specially constructed arena. The audience was well-protected with the help of fortifications. The arena measured 400 cubits in length and 240 cubits in breadth and was divided into three parts including the elephant-zone (dvipabhumi), the king's zone (nripabhumi) and the runner's zone (parikārabhumi). The runner who could maintain his place in front of the elephant in all three parts of the arena was considered to have won the race. But if he went off the track, or ran zigzag, he was considered to have been defeated. The furious elephant was likely to trample and kill the parikāra or runner. Horse riders usually stood by to be to control the elephant and save the runner6.

We now turn to the history of organized sports played in specially constructed stadia, which resemble modern ones. Ball sports on horseback are believed to have been introduced in India through central Asia during the Mughal period. However, a description of vāji vāhyalivinoda (amusement of the ballgame) in the Manasollasa prove that indigenous sports resembling golf and horseback-polo were common even earlier, during Rashtrakuta and Chalukya times.
A Shravanabelagola inscription of 982 C.E. describes the excellence of king Indra IV in the science of the ballgame ( kandukāgama) 7. By this time, various ballgames including those played on horseback were so popular, that the science of the ballgame came to be developed. By reconstructing and interpreting meager details in the old Kannada inscription, the sport can be compared to golf of modern times, but was played on horseback. The arena was circular, and the game was played between individuals. The player on horseback hit the ball with a stick, and after hitting it around the circular arena, he would send it inside, probably towards a hole in the center of the field. This completed one round. Whoever could complete more rounds at a stretch was presumably the winner. It is said of Indra Raja that he would not rest satisfied until he made eight or ten rounds at a stretch.
In the polo sport of Chalukyan times (c.12th century) the field was four hundred hands square and the game was played between two teams consisting of eight members each. The ball (kanduka) and bat ( geddikā) were made of wood and covered with red leather. The attire of the players included a tight coat and a belt. Players initially stood near the goals. Putting the horse into trot, one player moved the ball towards the goal of the opposing team, followed by the other members. The members of the opposite team would try to intercept the ball and attempt to move it in the opposite direction. The ball thus rolled from one end of the field to the other. Instead of one goalpost as in the modern game, there were two, one behind the other, and the ball had to pass through both8. The popularity of the sport of polo in Chalukyan times indicates the level of perfection attained in the art of riding.
Hayavāhali or Ashvavāhali , mentioned in Kannada classics, were practiced by princes and nobles. This referred to a popular ballgame on horseback. The history of polo or games on horse as described in this section takes the history of this sport in India at least five centuries further back than suggested by Prof. A.L. Basham who places its origin in Mughal times.

Hunting was another important pastime indulged in by the royalty and the commoners alike. Mastery attained by youngsters in wielding various weapons such as the bow and arrow, spears, clubs and the chitbil (catapult) were put to the test during hunting expeditions. Indiscriminate killing of animals was avoided and expeditions were organized only when wild animals overbred, resulting in a scarcity of food for all animals in the forest.
An eco-balance was thus maintained and in this regard the expertise of forest dwellers, who were well acquainted with the terrain and the movement of animals, was utilized. A huge party of shooters, dogs and decoy animals such as the cheetah, deer and hawks was organized. Tigers, lions, boars, bears, wild buffaloes, deer, sāmbar, and a number of birds were killed or young ones (cubs) were caught alive in nets. Women also participated in such expeditions. Hunting scenes figure in contemporary sculptures of those times. Heroes who fell while fighting wild animals were gratefully remembered in hero-stones.
The hunting sport for women was generally less strenuous, although we often find the huntress-motifs in artwork. Back at home, kōlāta(game of sticks) was very popular and involved many feats such as the touching of the hair knot with the foot, performing tricks while simultaneously keeping the music and the beat in mind. Feats with sticks were common. Women acrobats were well known. A hero-stone from the 17th century refers to the tragic death of Yellakka, who while performing a feat on the pole, fell down and died on the spot.
Physical exercises undertaken by the Vijayanagara king Krishnadevaraya included body massage, wrestling, weight lifting and horse riding. These were undertaken daily, as documented by Domingo Paes. Krishnadevaraya's portrait in bronze at Tirupati shows the suppleness of his body maintained through regular exercise.
Father Du Jarric, who visited a gymnasium at Chandragiri in the 17th century, has left an interesting account of nobles who exercised through boxing, jumping, fencing and wrestling. He observed that these exercises were undertaken almost daily before dinner in order to be fit and healthy; "thus men as old as seventy years look only thirty". Perhaps such daily exercises were not common in contemporary Europe. Pietro della Valle who visited Ikkeri in 1623 C.E. has left a vivid description of kōlāta by women. He has also stated that among Indians it is the custom for everyone to manage and use one sort of arms wherein he "accustomed himself."

(i) Kumaravyasa Bhratakathamanjari, ch. VII, verses 1 and 2.
(ii) N. K. Kulkarni. Kumaravyasa Mattu Krishnakathe, pp. 25-26.
Manasollasa II, verses 880-958, pp. 229-236.
Mohanatarangini, XVII, verses 78-83, pp. 233-238.
Manasollasa, II, v. 159-ff, p. 168; Agnipurana, CCL, p. 898.
Manasollasa, II, verses 832-840, pp. 225-226.
Ibid, verses 556-557, p. 203.
Epigraphia Carnatica, no. 133; G. S. Dikshit. "Ballgames on horseback." Karnataka Bharati (Humanities), Dharwad, 1963, p. 40ff.
Manasollasa, II, vv. 261 ff, p. 261.

Education in Karnataka through the ages
Preface | Buddhist Education | Jaina Education | Palm-leaf Texts | Ghatikasthana | Education of Royalty | Community Education | Vocational Training | Education of Women | Physical Education | Among Muslims | Conclusions