A Rare Konkani Manuscript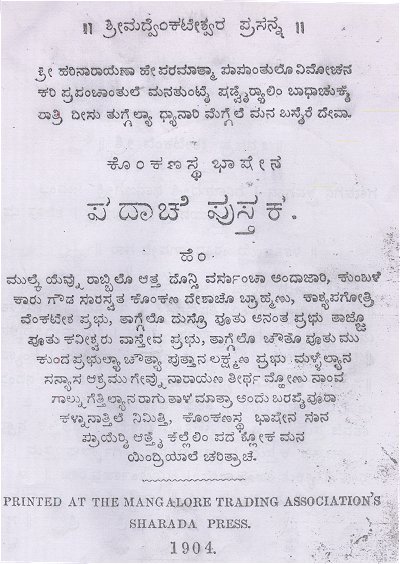 Introduction
This rare Konkani lithograph manuscript, dated 1904 was printed in Mangalore. It contains devotional songs in Konkani in the glory of popular Hindu deities. Many compositions of Purandaradasa are translated into Konkani.
The introduction traces the genealogy of the author back some two hundred years.
Venkatesh Prabhu of Kashyap gotra Kumble of Goud Saraswat nation came to the town of Mulki about two hundred years ago. His second son was named Ananth Prabhu, who had a son by the name of Vasudev Prabhu. Vasudev was a poet, and the name of his fourth son was Mukund Prabhu. Mukund Prabhu's fourth son Laksham Prabhu became an ascetic and assumed the name of Narayan Teerth.

Narayan Teerth could sing, but not write. These poems were sung by him. This is the history behind this collection.

1904.
---
Digital Scan of a 1904 book of Konkani devotional songs by Narayan Teerth. They are translations of Purandarasadasa's compositions.
Pages:
1 - 2 -3 - 4 - 5 - 6 - 7 - 8 - 9 -10 - 11 - 12 - 13 - 14 - 15 - 16 - 17 - 18 - 19 - 20 -21 - 22 - 23 - 24