Village of Aghanashini
The Aghanashini River
Aghanashini is one of the four major rivers of Uttara Kannada district in the state of Karnataka. It has a total length of 121 kilometers and does not receive any feeder throughout its course. The river has two sources. The first is the "Bukurhole," rising in a pond at Manjuguni, located 25 kilometers west of Sirsi. The second source is "Donihalla" which originates close to Sirsi. The two streams meet at Mutthalli, 16 kilometers south of Sirsi. Further it flows with a winding course to the western face of the Sahyadri mountain ranges. Five kilometers from Heggarno, in Siddapur town in Unchalli, the river leaps into a steep valley to form the majestic Lushington falls. Further down, six kilometers from Bilgi, near Hemanbail village, the river forms another waterfall, popularly known as "Burde Jog." This time Aghanashini takes a double jump: the first from a height of 60 meters followed by another of 48 meters. Down the stream, at Uppinapattana the river meets the tide. From here on, for the next 24 kilometers, it is navigable by small country crafts.
The marvel of the river is that it forms a back water lagoon, which has a length of thirteen kilometers and a breadth of two to six kilometers. It is cut off from the sea by a land belt that is about two kilometers broad. The river joins the Arabian Sea five kilometers from the northern end of the lagoon.
K.L.Kamat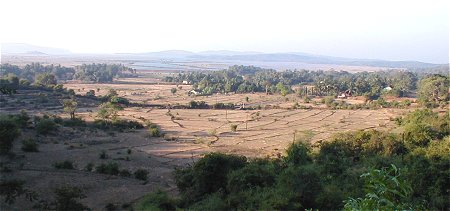 The Village of Aghanashini
Aghanashini is also the name of a small sleepy fishing town on the south bank of the lagoon. The river's name (meaning "destroyer of sins") is in honor of this town. Aghanashini is ten kilometers north of Kumta town and approachable by a paved road. Tadri port is located on the opposite bank of the lagoon. Under an Indo-Danish project (1988), Tadri is being developed (year 1997) into a fishing port. At the eastern end, the lagoon extends up to Mirjan, which was an important port in the medieval Karnataka. The town of Gokarn (a.k.a. Gokarna), known for its Mahabaleshwar temple is five kilometers north of Tadri. In between these two towns, is located Saneketta, a great salt manufacturing center.
If one can take a day off from his/her busy life, it could be most fruitfully utilized by visiting Aghanashini and nearby places. It is a good idea to commence the day by visiting different temples at Gokarn followed by the village of Saneketta. A boat ride from Tadri to Aghanashini across the lagoon will be most enjoyable. A sunset at Aghanashini is as beautiful as that at Agumbe or Kanyakumari.

See Also:
Hometown India Project -- Articles and pictures of common towns and villages of India, started by popular demand.
---

Contents from Timeless Theater CD-ROM
ISBN: 1929648006, 1999
© K.L.Kamat, Jyotsna Kamat, All Rights Reserved