Animal Motifs of Sanchi
© K.L.Kamat/Kamat's Potpourri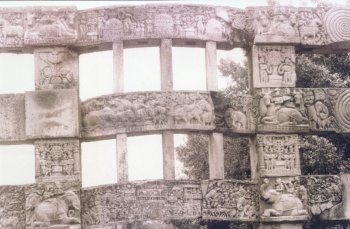 Animals on the Carved Arch of Sanchi
Birds and animal motifs have been elaborately carved on these arches.
See also:
Statue of Meditating Buddha, Ashokan Edict, Sanchi, Social Themes Depicted in the Sculptures of Sanchi, Drinking Couple, A Stupa of Sanchi Showing the Decorated Entrance, The Treasures of of Sanchi
Animals and birds have been man's favorite subject of art even from pre-historic periods. Here is a miscellaneous collection of pictures culled from thousands of years of Indian art, on animal motifs.
Animal Motifs in Indian Art