Movie Review: Mother India
Mother India depicts a story of a rural Indian woman Radha (played by Nargis) struggling through life -- her loves, hardships, disappointments and efforts of courage. Mother India is an important movie in the history of Indian cinema, being the first (in year 1957) to get international acclaim and recognition for a movie from India. It was nominated for an Academy award as a Best Foreign Film.
kamat.com/Kamat's Potpourri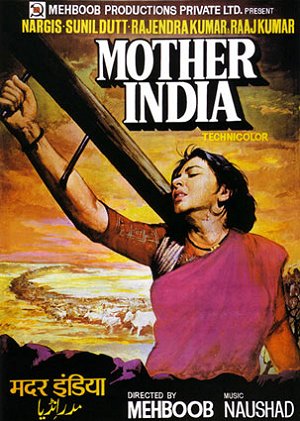 Poster of Movie "Mother India" (1957)

Rich in color and dramatics, Mother India was a big commercial hit of the period and tells a lot about the storylines popular with the audience in the newly liberated young nation of India. It contains socialist ideas, and melodious music that has become as a hallmark of Bollywood movie making.
The success of Mother India established its stars, especially Nargis as a powerful Bollywood icon, and paved way for hundreds of imitation plots in all various remakes across India.
Producer: Mehboob Khan
Director: Mehboob Khan
Screenplay: Mehboob Khan (story), Wajahat Mirza, S. Ali Raza
Cinematography: Faredoon. Irani
Music: Naushad
Cast: Nargis , Sunil Dutt, others
Year: 1957
Language: Hindi
Review: Vikas Kamat