Movie Review: Utsav

Utsav is based on a classical tale of love and romance and political drama "Mrichchakatika" by poet Bhasa. It is a story of a passionate love between Vasantasena (played by Rekha), a beautiful and renowned courtesan of Ujjain and Charudutt (played by Shekhar Suman), a poor, married Brahmin. Interesting drama unfolds resulting in confusion and calamities. The brother-in-law of the king Samsthanak (played by Shashi Kapoor) is in pursuit of Vasantasena. On one hand Aryak (played by Kunal Kapoor), a political revolutionary, plots to depose the king on the other hand Vatsyayana (played by Amjad Khan), complies his masterpiece on erotics, the Kamasutra. The plots thicken and come to a climax, when Charudutt is accused of murder and sentenced to die.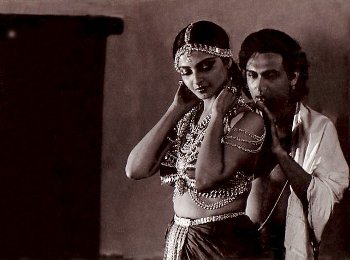 Seduction of Charudutt
Rekha and Shekhar Suman from a publicity still of Utsav
A beautiful movie with stunning visuals and melodious music, Utsav captures the glory and value system of 3rd century India. However, it fails to excite the viewer on the political saga that is simultaneously unfolding.
Directed by: Girish Karnad
Starring: Rekha, Shankar Nag, Anupam Kher, Shashi Kapoor, Amjad Khan etc.
Year: 1984
Language: Hindi
Review: Vikas Kamat