Vyjayanthimala Bali
Vyjayantimala Bali (a.k.a. Vaijayantimala Bali) is a South Indian actress, born August 13 1936 in Chennai. Professional Bharatanaatyam dancer of high calibre. Vyjayanthimala started her film career in Tamil films under the direction of M.V.Raman at AVM. M.V.Raman also cast her in AVM's hit Hindi film Bahar(1951). It was her first film in Hindi. She is one of the first South Indian actresses in post-independence, who became a national star. Her dance compitition with Padmini in the Tamil film, Vanjikottai Vaaliban, received much acclaim.
Nagin was another big success.Her sinuous snake dance to the song Man dole mera tan dole was a big hit. Bimal Roy cast her as Chandramukhi opposite Dilip Kumar in Devdas. She then starred in four successful films opposite Dilip Kumar. Mudhumati, Ganga Jamuna, Leader and Naya Daur. For Madhumati and Ganga Jamuna she got Filmfare Best Actress Awards. She also received a Filmfare nomination as Best actress in Sadhana. She acted with Raj Kapoor in Sangam which earned Filmfare Best Actress Award. She starred in Amrapali, which was based on the life of the legendary Buddhist courtesan Amrapali. She costarred with Rajendra Kumar in Suraj, with Dev Anand in Jewel Thief, with Kishore Kumar in New Delhi and with Shammi Kapur in Prince.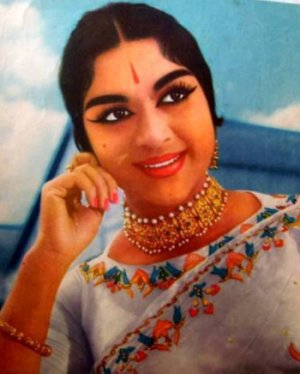 Vyjayanthimala's Tamil movies included irumbuthirai, Vanjikottai vaaliban, Vaazhkai, Then Nilavu, Penn, Parthiban Kanavu(old), and Bagdad Thirudan.
Vyjayanthimala married Dr. Chemanlal Bali who was Raj Kapoor's personal physician. After marriage, she left the acting career and moved Madras. After the death of Dr. Bali, she entered into politics and got elected as a member of Lok Sabha (Lower house) . Later she was nominated as a member of Rajya Sabha(upper House). She published her autobiography "Bonding" with Jyothi Sabarwal as the co-writer.