Wooden Crafts
© K. L. Kamat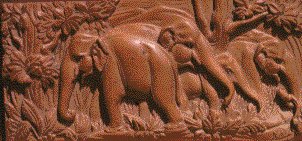 Wood carving is an important traditional industry of India. It is done generally on a limited number of species of wood, suitable for the purpose. Various forms of elaborate carving with extraordinary precision and accuracy are the characteristic features of Indian wood-work. Images and panels, architectural elements, furniture, utensils and different types of decorative pieces in wood are produced all over India. Free, bold and deeply undercut designs and motifs of Uttar Pradesh are best represented by the Saharanpur carvings. Low stools, mirror frames, table tops and elegantly designed modern furniture are the specialties of Punjab. Rich, intricate and variegated designs are raised, engraved or undercut on seasoned walnut articles of Kashmir. The carvers of Kashmir produce wall-plaques, pedestal and table lamps, articles of hollow patterns, carved furniture and other items. Bel Khudao (carving that depict creepers) and Phul Khudao (carving which contains flowers or rosettes) designs on the utility articles of Madhya Pradesh and the intricate designs on chests of drawers, tables and sofas from Maharashtra are popular for their freshness. Sankheda, the lacquered furniture from Gujarat, is fascinating and colorful. Three-dimensional and relief icons, various types of panels, cups, saucers, forks, etc. are specialties of Andhra Pradesh and are produced mainly in Bhongir and Udaigiri. Nirmal furniture is also the pride of Andhra Pradesh, Virudhunagar, Madurai and Thanjavur. Wood carvers in Tamil Nadu produce decorative as well as utility articles in wood.
The wood-carving practiced by the hill tribes of Assam, Manipur, Tripura and Nagaland is entirely different in its nature from other regions. The symbolic representations of supernatural elements made in wood and bamboo are very interesting. Carved figures, furniture, cabinets, jewelry boxes, and lamp stands produced in West Bengal and Bihar are known for their simple yet beautiful designs. Delicate and ornamental objects are produced in sandalwood. Sandalwood carving has grown to a considerable extent in Karnataka, Kerala, Tamil Nadu, Rajasthan and West Bengal. These articles are invariably carved with designs of extremely involved and elaborate patterns, consisting of intricate interlacing of foliage and scroll work.
© K. L. Kamat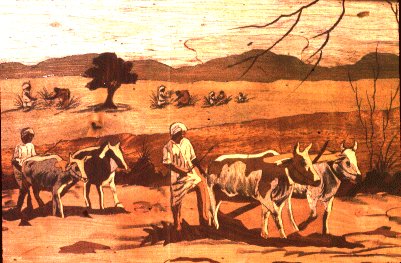 Wooden inlay work
Inlay work on wood may almost be considered a form of embroidery on wood. The materials used for inlaying are ivory bone and metals such as copper and brass wire. Veneering, marquetry and applique works are other forms of ornamenting wooden articles.

Handicrafts of India
Metal Crafts | Stone Crafts | Pottery | Toys | Ivory & Bone Crafts | Carpets | Basketry | Folk Paintings | Fabric Art | Costume Jewelry | Others | PICTURES