Gifts to Dalai Lama
Lowell Thomas/Kamat's Potpourri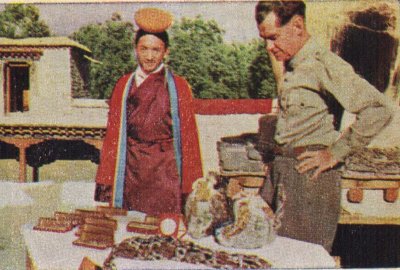 Dorje Changwaba and Lowell Thomas Sr.
On the table are some of the gifts the Thomas' carried to Dalai Lama. They included "Siamese tiger skulls, an eight day clock, mechanical pencils, and an Hawaiian shirt"
American journalist Lowell Thomas Jr. visited Tibet (then a mysterious, free nation), in 1949 with his father and met Dalai Lama. They were the 7th and 8th Americans in the history to be granted this privilege. Thomas's 1950 book "Out Of This World - across the Himalayas to forbidden Tibet" contains rare and important photographs of period Tibet, before its collapse in 1959.
Rare Pictures of Tibet |
Tibetans in India