Karavali Picture Album
You have reached the end of Karavali photo album.

Although the term Karavali strictly refers to the coastal towns only, it is referred here to the encompassing regions also, namely the western ghats and Goa.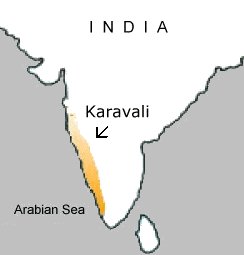 The map above shows Karavali as discussed here.
These photographs were taken over a span of forty years of time, and some of the things you see in these pictures do not exist anymore. Many of the photographs in the Karavali album have been published by the Government of Karnataka in "The Uttara Kannada Gazetteer" edited by Dr. Suryanath Kamath.
See Also: