Music Critic Mohan Nadkarni
Mohan Nadkarni, perhaps India's most prolific music critic was born in 1922 in a Saraswat family.
Mohan had no formal training in music, but his sheer love for music, his deep sense of understanding, and hard labor he put in self-study turned him into a prolific writer, a music columnist, commentator and a recognized music critic.
"All India Radio is my Guru" -- Mohan Nadakarni always says, referring to the state owned radio station of India from which he learned to listen to music. He learnt the intricacies of Indian classical music from the great masters themselves by interacting with them. Nadkarni has authored six books on music and musicians of India, including the much celebrated biography of Bhimsen Joshi.
Having served as a columnist in Times of India, as a broadcaster in Radio, as a commentator on Television, and as a member of the audition board, Mohan Nadkarni is the recipient of "Kalashree" award given by the Government of Karnataka and the "Swara-Sadhak" honor given by the Swara Sadhana Samiti of Mumbai.
kamat.com/Kamat's Potpourri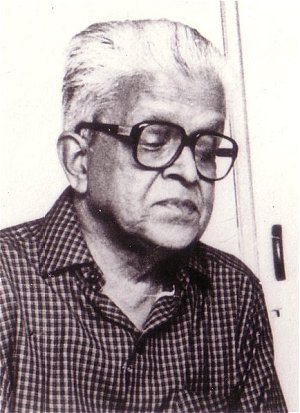 Music Critic Mohan Nadkarni

Nadkarni has retired from active writing and now lives in the city of Pune with his wife. His one son is settled in New Zealand.
Biographical Sketch by Prakash Burde, February 2006

See Articles by Mohan Nadkarni in Kamat Research Database