V.N. Shenoy O'key (1917-1998 CE)
by Dr. Jyotsna Kamat
Introduction
V.N. "O'key" was a rare person with rare combinations of humanism, artistic merit, and humility. He kept a low profile throughout his life, sometimes not even bothering to initial his innumerable art creations. With the result, most of them are difficult to identify or trace. It is rather difficult to reconstruct the life and achievements of this extraordinary artist, who drew, painted, sketched, clicked and engraved. In addition, he was a socialist to the core. "Service before self" remained his motto till the end.
Kamat's Potpourri is specially indebted to Mr. T. N. Shenoy, nephew of O'key for providing hundreds of slides and ink-portraits for inclusion in Kamat Research Database. Mr. Shenoy also provided biographical notes of the great artist who lived and died shy of publicity. The creative works O'key left behind are an excellent primary source of visual graphics.
Early Childhood
Born as Vasudev, second son of T. Narasimha Shenoy and Sundaribai of Mulki among their five children. Vasudev spent early years in the town of Mulki (in present day South Kanara district of Karnataka) where he had early schooling. Surroundings were beautiful but life was hard. He left Mulki at the tender age of fifteen for Mumbai to make a living and also pursue art which was very dear to him. He worked at a hotel of his relatives and attended classes at the Institute of Fine Arts. After qualifying himself he entered the famous J.J. School of Arts. However he did not complete the course. He plunged into the national struggle, was thrown out of school and sent to jail, for "picketing".
India then was passing through a crucial phase of struggle for its independence. Young Vasudev could not be kept mum. He started contributing his mite through art form. He came in contact with Sane Guruji, the great writer, teacher, reformist and social worker. He started drawing sketches and illustrations to "Sadhana", a very popular periodical run by Sane Guruji. He assumed the pen name of O'key.
O'key is a short form of Ola Lanke, a folklore name of Mulki town. "Ola" means inner and "Lanke'' is the land of Ravana. Thus V.N. Shenoy came to be recognized as V.N.O'key among the activist circles.
Involvement in Socialist Agenda
While in jail, O'key came in contact with Yusuf Meher Ali who was interned during Quit India Movement (1942) but released because of health reasons. He was planning and scripting an exhibition on Indian Freedom struggle of 1857-1943. O'key offered to draw illustrations after his release.
By then, O'key's name was familiar as a versatile artist who painted walls of educational institutions, made illustrations for text books, and drawings for commercial purposes. It was means for his simple living. He prepared a calendar of National Leaders for Dr. N.S. Hardikar and his Rashtreeya Swayamsevaka Dal (R.S.D).
O'key worked day and night for Yusuf Meher Ali's project. He prepared 150 large paintings to suit the script. Kamaladevi Chattopadhyaya inaugurated the exhibition which was an instantly popular in Mumbai. Later it was held at several places. O'key's work received wide acclaim.
V.N. O'key/Kamat's Potpourri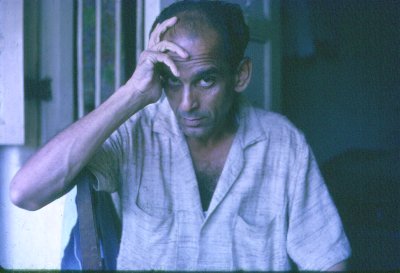 Self Portrait, V.N. O'key

In the company of his socialist friends O'key developed the habit of reading. He became aware of socialistic movements throughout the world. He actively participated in all national conventions. No meeting or convention was complete without O'key's newly invented line drawings, ink portraits and stage decorations.
See Also: Socialist Propaganda Posters and the V.N. O'key Collection
Documenting India and Indians
V.N. O'key/Kamat's Potpourri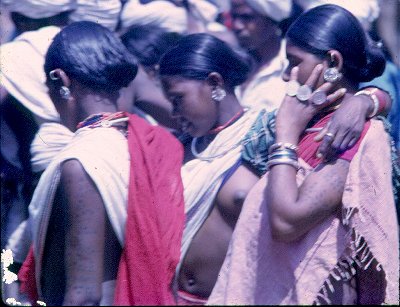 Tribal Women, Bastar
Careful inspection of the photograph reveals tribal tattoes and tribal jewelry
He was a avid traveler. He immensely liked nature. The Himalaya ranges, rivers, seas and oceans, forests, trees, birds and old temples attracted him in no small measure. After independence of India (in 1947) he opened his studio and started giving shape to his artistic dreams.
His ink and pen portraits of famous musicians, artists, national leader, politicians, writer etc., made him a very "wanted man" outside the studio as well. When S.M. Joshi turned 70, a felicitation volume, "Architects of Modern India" was planned and executed. That volume carries 66 illustration of eminent personalities in different fields made by O'key. This is the only book where O'key's drawings are available in one place.
V.N. O'key/Kamat's Potpourri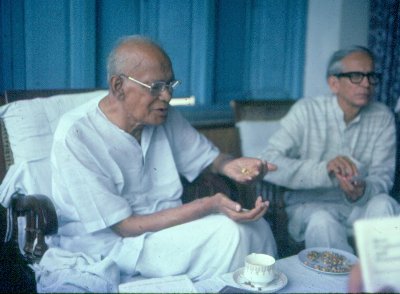 Jaya Prakash Narayan with S.M. Joshi
Patna, September 1978
Pu. La. Deshpande, the distinguished Marathi writer, was highly appreciative of O'key's art. He used to arrange talks and concerts of well known littérateurs and artists in those days. He made it a practice to present a portrait of theirs, made by O'key at the end of the program.
O'key fought underground in the dark days of Emergency as well (1975). He drew illustrations on atrocities committed for underground periodicals. These drew the attention of Amnesty International, Socialist International and Human Rights Commission.
O'key's last days were difficult. He was a bachelor and had no place to call his own. He suffered from the Alzheimer's decease, got lost in Bombay crowds and was found in a collapsed condition in a public park. He was carried to Shantidham at Gorai established in memory of Mother Theresa. From there he was taken to Shantivan , dedicated to Sane Guruji where was fed and nursed. Later he was taken to Panvel home for senior citizens run by his community where he breathed his last.
O'key was a great patron of Indian Classical Music and left behind many precious recordings of great masters.

We thank Ms. Hema Kudva, a niece of V.N. O'key, for providing some corrections and for additional information.

See Also: