The Illustrated Weekly of India
by Vikas Kamat
Started publication in 1880 (as Times of India Weekly Edition and renamed as The Illustrated Weekly of India in 1923) and ceasing publication in 1993, The Illustrated Weekly of India was an important English language publication in India over a century, bringing together the formation, and construction of a young nation. Eminent journalists such as Khushwant Singh, M.V.Kamath, and Pritish Nandy served as its editors and its contributors included some of the best English writers of India during the 20th century.
kamat.com/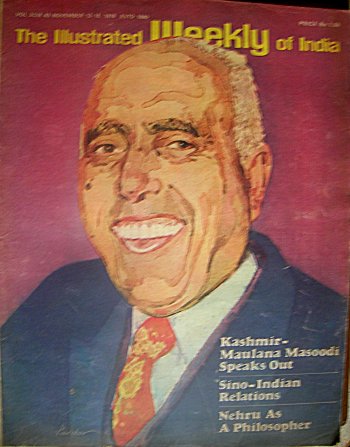 A Cover page of The Illustrated Weekly of India

The "Weekly", as it was called by its loyal readers defined the reading habits of at least two generations during the 1970s and 1980s, when it featured well researched articles, cartoons by Mario and R.K. Laxman, party jokes, western cartoons like Phantom, and semi-nude models. A series "The India You Do Not Know" on different states of India and another on different communities of India became very authentic sources of reference during this period.

Abstracts of Some Articles from The Illustrated Weekly of India
The page cannot be found
The page you are looking for might have been removed, had its name changed, or is temporarily unavailable.
---
Please try the following:
Make sure that the Web site address displayed in the address bar of your browser is spelled and formatted correctly.
If you reached this page by clicking a link, contact the Web site administrator to alert them that the link is incorrectly formatted.
Click the Back button to try another link.
HTTP Error 404 - File or directory not found.
Internet Information Services (IIS)
---
Technical Information (for support personnel)
Go to Microsoft Product Support Services and perform a title search for the words HTTP and 404.
Open IIS Help, which is accessible in IIS Manager (inetmgr), and search for topics titled Web Site Setup, Common Administrative Tasks, and About Custom Error Messages.
See Also:
Indian Journals -- A painstakingly compiled list of over sixty scholarly journals covering various aspects of India. Includes ISSNs and links to online contents.