The Marrying of Cousins and Mutuals

First Online: October 12, 2001
Page Last Updated: October 31, 2016
In India, a woman after marriage is considered part of her husband's family , not her father's. By this definition, maternal cousins are not part of the same family and can marry. Indians not only can marry maternal cousins, but also can marry maternal uncles by the same justification. The concept of keeping the wealth inside the family has only added to the custom.
Graphic Showing the Allowed Marriages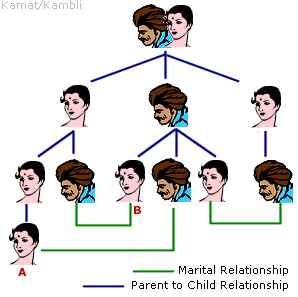 The graphic illustrates the various generations of a real family in India and their interrelated relationships.
The Mutuals
The Mutuals is another prevalent type of arranged marriage in India in which a brother and a sister marry another brother and sister combination from another family. Thus, the siblings become the in-laws!

Assignment: Enumerate the number of ways person A is related to person B.
Answer: B is A's sister-in-law; B is A's aunt; B is the niece of A's grandma, B's sister is married to another of A's uncles. Phew!
See Also: