The Smell of the Earth

by Vikas Kamat
Page Last Updated: October 31, 2016


Description of India's art heritage is incomplete without the special mention of India's deep rooted folk arts. The folk arts of India are often described as offering the smell of the earth, and differ from the classical arts. These rustic forms have been in vogue for centuries, and still very alive. Perhaps India is the only country that has blended art with daily life. The purpose of this addition to the Alamkara section is to say something about the crafts that have added grace and grandeur of the old-world to modern living.

© K. L. Kamat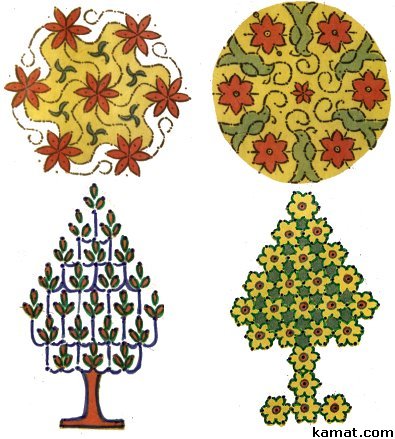 Colorful Rangoli Designs

For many housewives, the day starts with the traditional Rangoli or Kolam. This ephemeral art form is practiced by women everyday in devotion to Goddess Laxmi. Every region in India has its own flavor of the Rangoli art.
© K. L. Kamat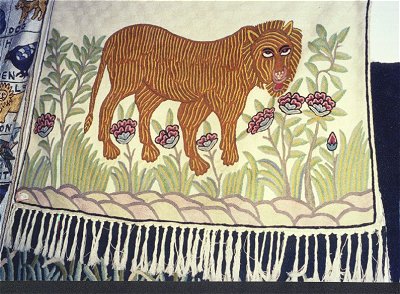 Tiger that Loves Flowers!
Design from a hand-woven throw from Kashmir
Crafts in India grew as a result of two needs of mankind: the utility and the need for beauty. The former resulted in the comparatively plain objects of utility, which served the needs of the common people. The latter produced more sophisticated products upon which much time and labor were spent and which catered to the aristocracy and nobility of the land or were exported as choice gifts and objects of art. Although complex in the matter of production and involving numerous processes, each craft is individualistic and localized in its appeal. For example, hand-printing in Rajasthan is quite different from printing in Andhra Pradesh. Crafts differ from region to region. They have their traditional ways of production, their own designs, colors and individual shapes and patterns. The tools that produce these handicrafts cannot be compared against spectacular structures or noisy machines, but the resulting artifacts speak with silent and subtle beauty. India's beautiful, conceptually pure handicrafts have survived, and they remain popular not only in India but all over the world, where they are admired, bought and displayed.