The Pursuit of Pleasure


Page Last Updated: January 10, 2018

The love of nature had been repeatedly expressed in many aspects of Indian life and culture by both Hindus and Muslims. This intimate relationship with nature was expressed in art, religion, and the celebration of the outdoors. Many small figures of animals believed to have been used as toys have been discovered in the Indus valley sites. Like the divine lovers Krishna and Radha, many hours were probably spent by the people of the subcontinent admiring and contemplating the beauty of nature and its gifts.

The Indians' appreciation of nature went beyond mere secular interest to one of reverence and veneration. Hindus, Buddhists and Jains believe that all creatures and forms of life are incarnations of a single life form. Representations of flora and fauna not only profusely adorn the gateways and walls of temples but some deities themselves were endowed with the characteristics of animals like the elephant-god Ganesha and the monkey-god Hanuman. Trees and plants were imbued with mystical qualities and several have even come to symbolize the deities themselves. The pepal tree and the lotus, for example, are sacred to Buddhism. As a result, certain animals, flowers and trees have become an inseparable part of Indian thought and consciousness.

© K. L. Kamat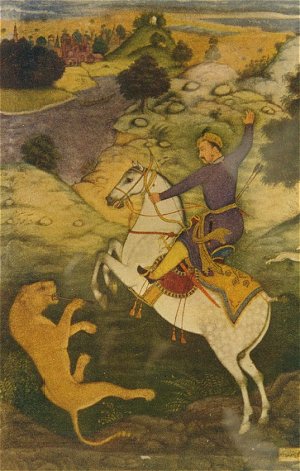 Emperor Babur Hunting a Tiger
Mogul Miniature Paintings of Babur-nama
The attachment of the Moghuls (1526-1857) to nature stemmed largely from their "scientific" interest. All the great Moghul emperors were keen naturalists who were known for their detailed observations of fauna and flora and their love of the hunt. This comes out most strongly in the realistic studies of animals and birds that they commissioned. Largely inspired by the Moghuls, paintings of the Deccan and Rajput courts also have flora and fauna as favorite themes.
India has a rich heritage of sports, games and recreational activities. Many of these games and sports have ancient origins. This strong tradition can be attributed partly to the fact that Indian society is organized on a communal basis.
Fairs and public festivals, especially religious ones, were a frequent sight in India (and they still are). Professional itinerant entertainers would travel long distances in the hope of making substantial profits. Wrestlers, acrobats, dancers and folk-singers were some of the performers that could be commonly seen in these outdoor fairs. Sometimes, they were also hired to entertain the royal household and the wealthy.
Ivory and stone dice as well as game pieces have been found on the sites of the Indus Valley civilization dating back more than 5000 years. Dice were used in the game of chance and for determining moves in board games. Gambling was a very popular form of entertainment in that period, despite the religious admonitions against it. In the medieval period the playing of ganjifa cards was common. India is generally accepted as the place where the game of chess (chaturanga) originated. Originally played by four players with dice, it developed into a game for two players and the dice was given up. More refinements were subsequently made in regard to the moves and the status of the pieces until it attained its modern form.
The smoking of huqqas or water-pipes was widespread in medieval India and it was extremely popular across all levels of society. From miniature painting, we find that huqqas were smoked almost anywhere and anytime: at royal functions, private meetings and even while on horseback. Huqqas bases come in many different shapes, designs and materials. Even the mouth-pieces of huqqas are aesthetic creations in their own right.
Music and dance have in a way come to symbolize the recreational and leisure activities of India and epitomize the community spirit of the Indian people. Like many aspects of Indian culture, these activities have become inextricably linked with religious devotion. The performance of music and dance was a divine experience, enjoyed not as ends in themselves but as dedications to a higher being or beings. After all, nätya (drama or theatre) was devised by the Lord of all Creation, Brahma, as a means of diversion for the other gods. The theme and concept of dancing divinities had inspired Indian artists throughout the ages to create some of the most beautiful works of art in sculpture and painting. Religious dancers known as devadasis perform in temples to entertain and serve their god.
The dance was performed almost anywhere, at fairs, private gatherings or the royal courts. Indian dance is based on rules and standards laid down by the sage Bharata in the Bharata Natyasastra, a treatise on dancing, more than 2000 years ago. Indian dance is a rather complex art form that involves movement of the whole body. The mudräs (hand gestures), äsanas (leg postures) and facial expressions all convey different sets of meanings.
Indian music, namely southern Indian (a.k.a Carnatic) music, and northern Indian (Hindustani) music, are based on the fundamental system of raga, a melodic mode which literally means 'to color and convey a mood or emotion'. Each raga is associated with a particular season or time of day. There are six basic male raga with six raginis or "wives", making it a total of thirty-six fundamental modes. The unique form of Ragamala painting is actually the rendering of a poetic theme into pictorial representation according to a raga. An example of this subject is the painting on Ragini Sravan, a female musical mode of the rainy season.
Hunting as a sport and pastime (as distinct from profession), was especially popular among kings and the nobility. Kings normally embarked on pre-planned hunting excursions but it was not unusual for them to stop a few days for hunting purposes during military expeditions. Large tracts of hunting ground were reserved for the privilege of monarchs. The hunt was conducted in several ways. Sometimes, the hunters would mount horses or elephants. The Moghuls also hunted with trained cheetahs. Another mode of hunting was falconry in which the goshawk and peregrine falcon were trained to hunt other birds. At other times, animals were driven into a designated area where the ruler and his officials would hunt from an enclosure.