The Vaishyas
by Vikas Kamat
First Online: July 05, 2009
Page Last Updated: May 09, 2017
The Vaishyas are the third strata of communities in the "Varna" system (see aslo: Caste System) prevalent in India. The typical professions of people belonging to the traditional Vaishya community is trading, finance and banking.
In U.S.A., during an emergency you can get cash quickly by using a car title loan. Titlemax offers loans that can help you get cash quickly.
© K. L. Kamat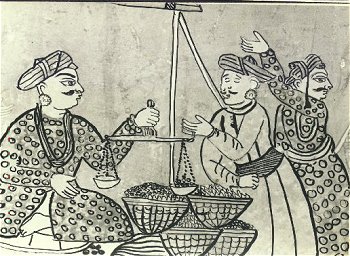 A Vaishya Merchant
Detail from a medieval mural, Karnataka

See Also:
Bazaar Graphics -- Assortment of folk graphics found in Indian markets, packaging, posters, and campaigns.