The Vaishyas
by Vikas Kamat
First Online: July 05, 2009
Page Last Updated: January 04, 2018
The Vaishyas are the third strata of communities in the "Varna" system (see aslo: Caste System) prevalent in India. The typical professions of people belonging to the traditional Vaishya community is trading, finance and banking.
© K. L. Kamat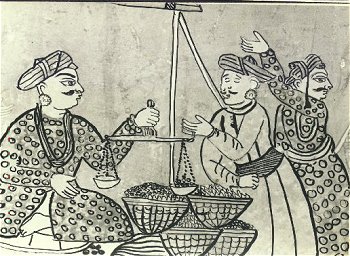 A Vaishya Merchant
Detail from a medieval mural, Karnataka
The trading community of Vaishyas have been largely responsible for the deep roots of Hinduism in India, due to their financial power and devotion to Hindusim. Over a period of time, the Vaishyas have practiced virtually all sacraments of Hinduism including upanayanam.
See Also:
Bazaar Graphics -- Assortment of folk graphics found in Indian markets, packaging, posters, and campaigns.