The Sacred Thread
by Vikas Kamat
First Online: June 09, 2004
Page Last Updated: May 09, 2017
What is a Sacred Thread ?
Known as Yajnopavita, the sacred thread is a hand-spun cotton thread worn across the chest and resting on one's left shoulder (the stavya position of the thread) most commonly by the priestly Hindus.
The sacred thread finds its origins in the Vedic rites, as a garment worn during the rituals. This is perhaps the reason why the first time it is worn (during a Upanayana ceremony), it is attached to a piece of skin (known as krishajina). In today's Hindu society, the sacred thread symbolizes the ancient history of the custom as well as the caste of the person wearing it.

Wearing the Thread the First Time
Wearing of the yajnopavita for the first time involves teaching the young boy (known as vatu or understudy) the sacred Gayatri mantram and providing a three-threaded yajnopavita.
Boy Becomes Man -- The Hindu Ordaining Ceremony
After the man is married, the three-threaded yajnopavita is replaced by a six-threaded one, symbolic of the additional repsonsibility.
Typically women do not wear the yajnopavita (although they may wear other sacred threads). However, practitioners of Arya Samaj philosophies practice equalities of same sex and perform all rituals for both the sexes.

The Thread Changing Festival
A full-moon day of the year is observed by those who wear the sacred thread (typically brahmins and followers of Arya Samaj) as a day of spiritual renewal and the thread the ritually replaced by new one.
When on one's shoulder, it it the person's responsibility to keep the thread clean (washing every time one takes a both) and honor it.
© K. L. Kamat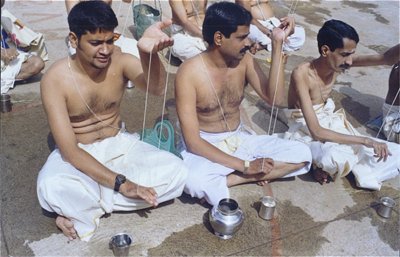 A Thread Changing Ritual

Stavyam and Apastavyam
There are essentially two positions of the thread on a person. The Stavya position, is the default one, is when the thread us hanging from left shoulder. If you study most Hindu idols of worship you will notice this position of the thread.
© K. L. Kamat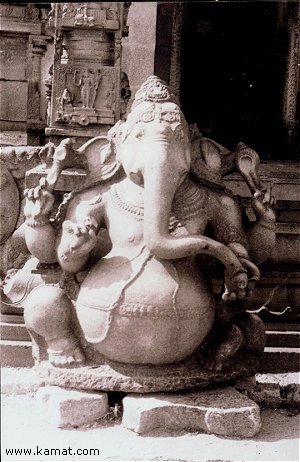 Most Hindu Gods are shown the Sacred Thread
The opposite position, hanging from the right shoulder is called the exceptional position and is used during funerals and when answering nature's calls.

Utility, Myth and Slang
As noted earlier, the sacred thread today symbolizes the caste system and it is used in jokes, propaganda as well as elevated to a status of mythical powers. A brahmin vatu is taught that the sacred thread and the Gayatri mantram are the strongest weapons in his repertoire, to fight fear and seek enlightenment.
The thread does have practical utility. Since it is always worn on the person (even during swimming, and while bathing) it is the safest place to hang a key to the family treasures. There is even a type of knot that is popular among brahmins on how to easily lock and unlock the key from the sacred thread. The thread also serves as back-scratcher -- you hold the ends and scratch unreachable parts of the back.

See Also: