India's Mysterious Northeast
First Online: November 03, 2006
Last Updated: January 04, 2018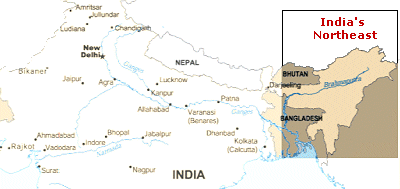 Introduction
The seven states to the East of West Bengal is the part of India, least integrated with rest of India, due to their geography (altogether they share only a 15 mile long connecting path to rest of India; they are landlocked otherwise), history, and to some extent, the native traditions of the region. The seven states are:
Table of Contents
State of Mizoram
Information on the mountainous, land-locked state of Mizoram in northeast India.
State of Sikkim
Information and picture of Sikkim, a small state in northeastern India.

See Also: