Indian National Flag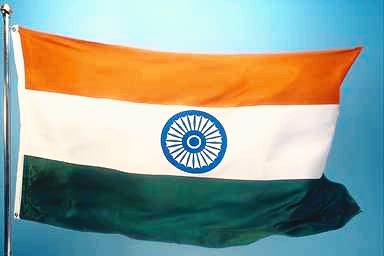 The Indian Tricolor
The national flag of India features three horizontal stripes (hence the official name Triranga or The Tricolor) of saffron, white and green with a blue chakra in the center. The simplicity and deep symbolism it represents is glorified by many poets.
Symbolism
The saffron stands for courage, sacrifice and the spirit of renunciation; the white, for purity and truth; the green for faith and fertility.
With poetic freedom, some have extended the saffron to indicate the color of the sunrise -- a sacred color in Hinduism and Buddhism to represent the ancient religions of India, the dark green to represent Islam, a prominent faith in the sub-continent, and white to represent Jainism, and as the purity that binds the different religions that constitute India.
The blue wheel, is borrowed from an Ashokan edict at Sarnath is the Dharma Chakra representing the wheel of law. Some poets have likened it to the Spinning Wheel Gandhi used to unite and liberate India.

See Also: