Song "Vande Mataram"
First Online: September 8, 2006 (Centennial of the Song)
Page Last Updated: May 09, 2017
Written by Bankim Chandra Chatterji in 1906, "Vande Mataram" (Salutes to Mother) is considered by many as the "Song of India". Indeed, the title of the song servered as the battle cry during India's Freedom Struggle against the European occupation, and the song served as the National Anthem of India till "Jana Gana Mana" replaced it.
The song, very poetic in describing the abundance of India, represents a lot of things. It was featured on the first Indian flag unfurled by Madam Cama, and Lala Lajpat Rai ran a newspaper by the same name.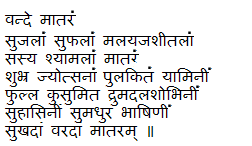 The first stanza of Vande Mataram, rendered in Devanagadri script

See Also: