Page Last Updated: January 10, 2018
Exploding palms and trumpeting elephants; temple dances that thunder into the night and mysterious green backwaters flowing sensuously through the land; colorful festivals, serene churches, enchanting byways and boat races...Kerala is a land of beauty of stunning variety and often is described as God's own country.
Kerala's palm-fringed waterfront is among most beautiful in the world. The backwaters, rivers and canals are about 1,920 km, which is more than one-fifth of India's inland waterways. It may not be known to many that Kerala was the gateway of India in ancient times, doing trade with Greece, Rome, Arabia and China. Muziris, near the present-day Cranganore, was the major port of those times.
Guruvayur, with its temple dedicated to Lord Krishna, is one of the most popular pilgrim centers in the State, but not sufficiently known to the people of the North. Its income is next only to that of Tirupati and Nathwara. Hundreds of marriages are conducted at the temple during the "wedding season."
Thrissur Pooram is a festival in honor of a number of temple deities -- chiefly of Krishna of Tiruvambadi and the Devi of Paramekkavu. It falls under the asterism Pooram (Purva-Phalguni in Sanskrit) in April-May. The pageant is conducted in a sprit of competition between devotees of the two deities. The main attraction, besides the elephant procession, is a spectacular display of fireworks.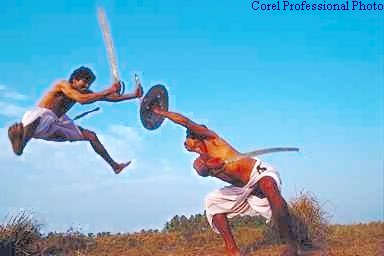 Kalari Payattu: A pre-cursor to many Asian martial arts
Kalari Payattu is an ancient martial art like ju-jitsu, karate, judo and kendo-stick. It consists of physical exercises, massaging the body with medicated oil and lessons in the art of attack and defense with sticks and swords. "The body should become the eye!" is the aim of this system. Schools were attached to the kalaris in which the young Nairs learnt Malayalam and, often, Sanskrit and Tamil. Girls also received physical training.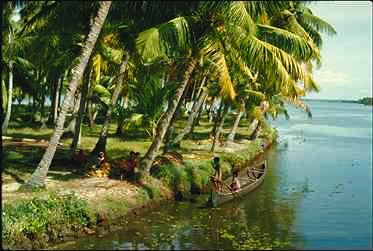 Life in Kerala
Kerala in known as the state of rivers in India. The river Chaliyar flows from Nilambur to Bepur, a major timber business center. It passes through the teak forest and is overlooked by the mountain peaks of the Western Ghats. Chaliyar is locally known as Kanakvahini and a small trace of gold has been detected in its sand. While boating here, one comes across scenes of great natural beauty.
See Also: