Bidaram Krishnappa
The King Krishna Raja the Third (Mummadi Krishnaraja Wadeyar ) of Mysore (1794-1868) was a great connoisseur of fine arts. Painting, dance and music received patronage duing his rule in such a way, that they developed independently to be recognized as Mysore school. Good artists were encourages to settle down in Mysore. Bidaram Krishnappa's father Viswanathayya was such a musician.
© K. L. Kamat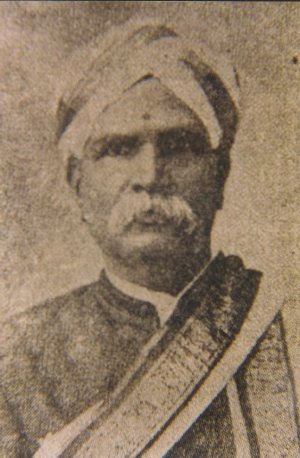 Bidaram Krishnappa (1866-1931)
Viswanathayya Kini was a talented artiste of Yakshagana and hailed from Nandalike village in South Kanara district. He excelled performing in female roles. Mysore king ( Mummadi Krishna Raja) who attended a Yakshagana performance, specially arranged for him when he visited Dharmasthala was highly impressed by Viswanathayya's role and invited him to join the royal theater at Mysore.
But his early death, left his two gifted sons Subba and Krishna, orphaned. They started singing in Anjaneya temple of Mysore at a young age for livelihood. Sahukar Timmayya, a great philanthropist, who happened to listen to young Krishna's devotional songs was drawn so much that he arranged for Krishna's music lessons under well known music master Karur Ramaswamy. Later Krishnappa trained under court musicians Karagiri Rao and Veene Seshnna.
At the age of nineteen, Krishnappa was recognized as palace musician. He started giving public performances in well known music centers like Bangalore, Madras, Tanjore, Trichanapalli, Madhurai etc. He had a rumbling, resonant voice which could reach more than a thousand audience clearly in the days without microphone. His knowledge of tala which is of prime importance in Carnatic music was extraordinary. That won him the title of 'Tala-Brahma' -- or "master of rythm".
Later he became court-musician and won the title of Ganavisharada (one who excels in music) bestowed by the Maharaja of Mysore.
Krishnappa was a tall, well built and handsome person with excellent bearing. A disciplinarian, he led a pious and virtuous life and expected hard output from his disciples as well. T. Chowdaiah, the legendary violinist who studied under Krishnappa for more than twenty years, worshipped him. A whole band of good musicians like B. Devendrappa, R. R. Keshavamurthy, B. Naranappa, and musicologist, Sanskrit scholar, Telugu and Kannada writer Rallapalli Anant Krishna Sharma as well as Bangalore Nagaratnamma trained under him.
Nagaratnamma under her guru's advice renovated the samadhi of Tyagaraja at Tiruvaiyur which since then has become venue of annual meeting of stalwarts of Carnatak music, all over the country.
Bidaram Krishnappa left a permanent mark as a devotee of Anjaneya (a.k.a. Hanuman). He built the famous Prasanna Seetharam Mandir at Mysore, spending his entire savings and gold medals, and mementos he had acquired. A temple with auditorium, it became a historical place where several eminent musicians came and performed. The building is known today as Krishnappa's Temple.
Krishnappa was the first musician who started singing Purandaradasa's compositions in classical music concerts. He has composed some kritis under the name 'Srikrishna'.
Krishnappa was a Goud Saraswat Brahmin of Konkani heritage. "Bidaram" stands for camp or temporary quarters. Perhaps his father and everybody else thought that stay in Mysore could be temporary. Surname 'Bidaram' was attached to his name instead of Kini, a common Konkani surname. But staying in Mysore, Bidaram Krishnappa took Carnatic music to great heights, left a bevy of distinguished disciples and a memorable performing place, in charity, in Mysore, known for royal munificence.

See Also:
Mysore Collection -- Pictures and artifacts from the old Mysore kingdom. Includes pictures of Mysore city, its museums, and gardens.