Veena Maestro Doreswamy Iyengar
by Dr. (Mrs). Jyotsna Kamat
First Online: September 10, 2003
Page Last Updated: May 09, 2017
Mrs. Kamat remembers a great man, her colleague, and a neighbor, veena maestro Doreswamy Iyengar.
© K. L. Kamat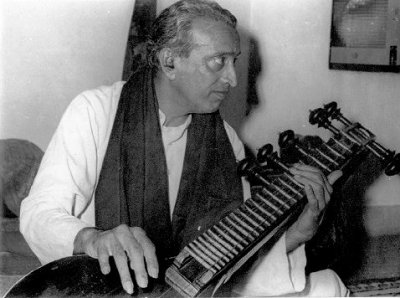 Mysore V. Doreswamy Iyengar (1920 - 1997)
The instrument Mysore-Veena has the prestigious place in Carnatic music because of its glorious tradition as the original veena (see: Veena Instrument) and long line of illustrious maestros. The Mysore kings (see Wodeyars) were great patrons of music, and rulers like Chikkadevaraya (1645 - 1704 A.D.) played veena. Nalmadi Krishnaraja Wodeyar (1884 - 1940 A.D.) was a great connoisseur of music and promoted Hindustani and Carnatic music at his court. Mysore city harbored many great musicians. Doreswamy Iyengar's family was one such.
Early Childhood
Mysore V. Doreswamy Iyengar's grandfather Janardhana and father Venkatesh Iyengar were well known musicians. Venkatesh Iyengar played both veena and flute, and trained members of the royal family in playing the flute.
Doreswamy (a.k.a Doraiswamy Iyengar) was born in 1920, and specialized in veena instrument. His younger brother Deshikachar specialized in playing the flute. Doreswamy was a born genius. He started performing at the tender age of six.. By the time he was twelve, he was considered fit enough to perform before the Maharaja of Mysore. The latter was so much pleased that the child artist was presented 50 silver rupees, a big amount in 1930s.
Doreswamy's earliest guru was his father himself. But he surpassed the father in no time. Hence Venkatesh Iyengar requested veena maestro Venkatagiriyappa, a direct disciple of legendary veena artist Sheshanna, who was for long controller of music programs at the palace, to teach his son. For fifteen years the young prodigy underwent grueling training.
Soon he started accompanying his guru in various concerts. Each concert was an ordeal, the maestro recalled. The guru was hot tempered and foul mouthed, and used to rebuke Doreswamy publicly at the slightest mistake. "But he was magnanimous and affectionate as a person."
Serving the Radio
Doreswamy Iyengar found employment as asthan vidwan (court musician) at Mysore palace at 75/- Rupees per month as salary. "I was happy and content", he has said. Then the merger of Mysore radio station with All India Radio, brought him producing opportunity at this doorstep.
For twenty-five years he served the organization by enriching musical program. He composed music for famous lyrics, musical features, and orchestras. He guided many young artists. He attended to music administration as well.
Playing veena in Mysore style is unique. It is played with nails of the right hand fingers, without using metal ring which is usual practice. This helps resonance of the strings more naturally. The mellifluous touch is closest to soft vocal tones. Veena as such is a soft and melodious instrument and needs delicate handling according to Doreswamy. It was never loud in his hands.
Simple Man, Great Artist
Doreswamy Iyengar led a frugal and simple life in his modest Malleswaram home. He was awarded an honorary doctorate, and Padma-bhushana (a great civilian honor in India) among other felicitations. He served as the President of State Sangeeta Nritya Academy and as the President of All India Carnatic Music Conference in 1985.
Tall, slim, fair, and ever-smiling Doreswamy endeared himself to one and all. A witty and humorous person, he was full of anecdotes associated with earlier musicians. He was far above the normal bickering, backbiting, lobbying, and promotions self-seeking musicians engage in. A god-fearing and saintly man, devoid of any ill habits, he was supported by his very able and devoted wife Sharadamma. They have three sons and a daughter.
Dr. Doreswamy did not take in many disciples, as is the norm among the leading musicians in India. Only his son Balakrishnan is said to have taken some lessons from him.
Dr. Doreswamy breathed his last in October 1997. An academy is founded in his name to preserve and promote Mysore school of Veena-playing.