Pannalal Ghosh

by Mohan D. Nadkarni


From: THE TIMES OF INDIA, Bombay
Date: August 31, 1969

Pannalal Ghosh, the unrivalled maestro of the flute, was only 48 when he suddenly died of a heart attack in Delhi in 1960. He was a virtually self-taught musician. Strange but true, he had not found his real guru, Acharya Allauddin Khan, till he was 36. But he had made his mark as a gifted flutist when New Theatres, the renowned film studio in Calcutta, spotted his talent, and employed him on its orchestral staff for background music in 1934.This proved fruitful in two ways. For it was here that Pannababu met Raichand Boral, the famed composer and music director, and Khushi Mohammad Khan, the noted harmonist. While the former initiated him into the mysteries of film music and orchestration, the latter gave him systematic instruction in flute playing, Another great composer from whom he benefited was Himanshu Dutt.

Looking back, it would appear that music beckoned to Pannababu when he was only seven -- an age when most boys are occupied with games and other diversions of childhood. And while he played simple, breezy tunes to the delight of the local village folk of Barisal (now in Bangladesh), his inventive genius toyed with the idea of extending the tonal capabilities of his flute as a medium. of classical music. [Thus followed a systematic study of its structure and technique. This led him to try a variety of material from aluminum and brass to plastic and bamboo, one-after another, in equally varied shapes and sizes, before he decided on the last, and added a seventh playing hole to evolve the flute he had long visualized. He then developed and perfected a style of' playing that marked a radical departure from the centuries-old style of music.

Private collection of Mohan D. Nadkarni/Kamat's Potpourri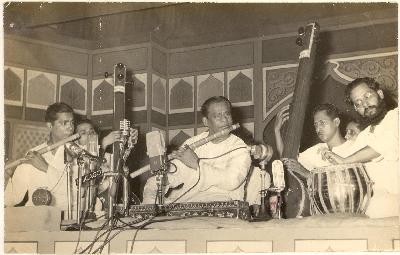 Pannalal Ghosh
In performance at the first Mumbai Tajya sageet-Mritya Mahotsava in Mumbai in 1956. Accompanying him is V.G. Karnad (on his right) and Nikhil Ghosh, his eminent younger brother on the tabla (to his extreme left)
This was in the mid-thirties, at a time when no one even had foreseen the possibility of harnessing the bansuri as an effective instrument for the unfolding of elaborate classical melodies. The listeners were struck as much by the tonal quality of his flute as by the range and variety of his improvisation. So perfect was its adaptation to classical articulation that it could afford the illimitable nuances of the human voice with a naturalness all its own. In point of depth, range and volume, it could vie with plucked instruments like the veena, the sitar and the sarod. Before long did his originality and virtuosity in enlarging the scope of his medium to wider panoramas of musical form and design bring him distinction as a pioneer in the introduction of gayaki to the woodwind.
As said earlier, it was Acharya Allauddin Khan who exerted the strongest influence on the development of Pannababu's idiom. That explains why his style presented so unique a blend of technique and temperament, of authenticity and appeal -- which constitute the hallmark of the Acharya's Senia parampara.
Pannababu was a deeply religious man. He had his spiritual initiation from Swami Birajananda, a direct disciple of Swami Vivekananda. The profound influence of the teachings of Paramahamsa Sri Ramakrishna had shaped his character and personality. Added to this was also the mystical element he inherited from Acharya Allauddin Khan. Not surprisingly, his music generated a mood of spiritual awareness in the listener. Passage after passage that he played came to us as the utterance of a deeply moved soul.
Pannababu's contribution to the enrichment of the raga repertory of north India showed a rare synthesis of tradition and experiment again the result of the Acharya's influence on him. His new creations like Deepavali, Jayant, Chandra-Mauli and Nupur-dhvani, to name a few were marked by structural authenticity and enduring appeal. So were his thematic compositions which he offered us as conductor of National Orchestra of AIR at Delhi. It is important to remember that he had proved his mettle as composer and music director much earlier during his association with Bombay Talkies before he met Acharya Allauddin Khan.
See Also: