Saint Musician Tyagaraja
by Jyotsna Kamat
First Online: January 01, 2010
Page Last Updated: May 09, 2017
Saint- musician Tyagaraja (1767-1848)
If Purandaradasa is considered father of Carnatic music, Tyagaraja is considered soul of it. His soulful devotional compositions are sung in the entire south India irrespective of regional and language differences. The musical school is called Karnataka or Carnatic. Main compositions of Tyagaraja are in Telugu, most of the distinguished musicians and percussionists are from Tamilnadu and Kerala, establishing thereby that south Indian music has only one tradition.
K.L. Kamat/Kamat's Potpourri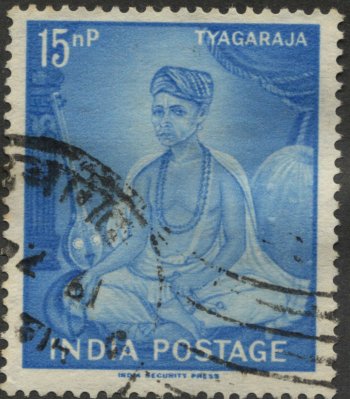 Musician Tyagaraja
Detail from Indian Postage Stamp
Tyagaraja was born in A.D 1767 in Tiruvavur in a Telugu Brahmin family. His father was Ramabrhma and mother Sitamba. Ramabrhma, a Sanskrit scholar was a reciter at the royal court of Tulajaji II of Tanjore (A.D 1763-87). He also mastered keertan later known as harikatha which was artistic presentation of mythological narration, singing with elements of acting and dancing. Keertan was very popular art in Maharashtra at the time, which made its entry in South India during Maratha rulers of Tanjore. Ramabrahma composed some musical plays as well. He was familiar with compositions of saints of Maharashtra and Karnataka. Tyagaraja learnt compositions of Purandaradasa from his father.
As a youngster Tyagaraja studied the Vedas, the puranas, jyotisha and ganita (astrology and mathematics). He had melodious voice and picked up compositions of different saints from his mother, who was also a good singer.
Ramabrahma, being aware of his son's talents, arranged for training in music under Sonthi Venkataramayya, a leading musician of those times. Very soon Tyagaraja became his worthiest disciple.
Married at a very young age of 18 he lost his wife early and married her sister early. Being a great devotee of Lord Rama, he kept away from worldly life, singing and meditating. He used to get visions of Rama very often and composed hundreds of songs extolling his greatness.
About eight hundred compositions have survived today.
He lived by the unchchavritti doctrine or living on grains gathered in the fields after the harvest. It was considered as an alternative to begging, most austere way of living. Though a recluse, he was surrounded by music lovers. A gurukula came up at his residence. Many musicians were trained by him.
He hardly moved out and performed pilgrimage only once and spent his last days at Tiruvayur in Tanjavur district. It goes to the credit of Bangaluru Nagaratnamma, a distinguished musician and devotee of Tyagaraja who renovated the ruined Samadhi of the saint, built a temple, which later became a spot of All India Tyagaraja Festival, greatest musical feat of the year in India today, wherein Carnatic musicians of all strata come and perform as individuals or in groups to render their tribute to the great saint-musician.

See Also: