River Kaveri
First Online: May 31, 2005
Page Last Updated: May 09, 2017
Kaveri (a.k.a Cauvery) river in South India is a long (about 500 miles) stream rising in the Western Ghats and joining the Bay of Bengal.. It flows across Karnataka and Tamilnadu states, entering the Bay of Bengal through two principal mouths. Although not very much used for commercial navigation (due to the extensive canal systems built around it), the Cauvery is highly important for irrigation purposes, chiefly in Mysore region in Karnataka and Tanjore delta region in Tamilnadu where there are extensive irrigation works. In Karnataka the falls of the river at Shivasumudra are utilized for the generation of electric power.
K.L. Kamat/Kamat's Potpourri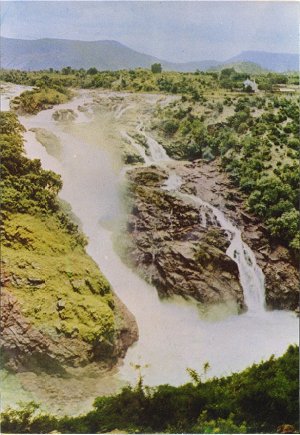 The Waterfall at Shivasamudra
River Kaveri falls 320 feet to form a spectacular waterfall
The river is sacred to the Hindus, who call it Dakshina-Ganga, or Ganges of the South.
The importance of the river and the dams built in its flow are a cause of ethnic conflict between the neighboring states of Karnataka and Tamilnadu.

See Also:
Jai Karnataka -- Potpourri of topics on Karnataka's history, people, folklore and arts. Includes sub-sections on Mysore, Karavali, and North Karnataka.
Tamizhakam -- Pictures and stories from the state of Tamil Nadu; includes a citation database of latest research.