The Periyar River
First Online: June 12, 2006
Page Last Updated: May 09, 2017
The Periyar is one of the major rivers of Kerala state in southern India running a length of 140 miles. The Periyar river originates in the Western Ghats range near the border with Tamilnadu state. It flows north through Periyar National Park into Periyar Lake, an artificial reservoir created in 1895 by the construction of a dam across the river. From the lake the river flows northwest to join the Arabian Sea.

Muthirapuzha, Mullayar, Cheruthoni, Perinjankutti and Edamala are some of the minor tribunaries of Periar river.
V.N. O'key/Kamat's Potpourri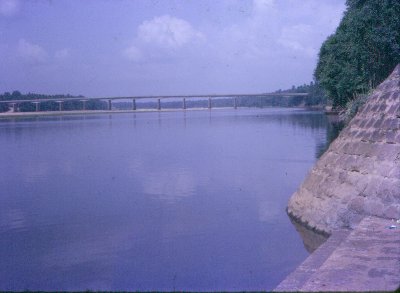 View of Periyar River
Kaladi, Kerala

See Also:
Tamizhakam -- Pictures and stories from the state of Tamil Nadu; includes a citation database of latest research.