The Temple of Rats
The Temple of Karnimata in Bikaner
by Jyotsna Kamat
First Online: December 10,2005
Page Last Updated: June 11,2006
The desert district of Bikaner in Rajasthan is of special interest to students of history. In ancient and medieval times, this land was crucial for international trade. The main caravan route which linked central Asia to western countries passed through this area. Hence Bikaner was a flourishing trade center. Some interpret Bikaner as a place where water (ner or nir) was sold (bika). It indicates dryness of the area.
Lalgarh Palace in Junagadh fort, a magnificent red sand-stone structure has beautiful floral designs over windows and entrance. It was built by Rai Singh in 1593 C.E. He was a trusted General of Emperor Akbar. Each fort in Rajasthan has its history and tradition kept alive by singing bards, who these days make a living by singing and dancing to visiting tourists.
Hemant Kumar/Kamat's Potpourri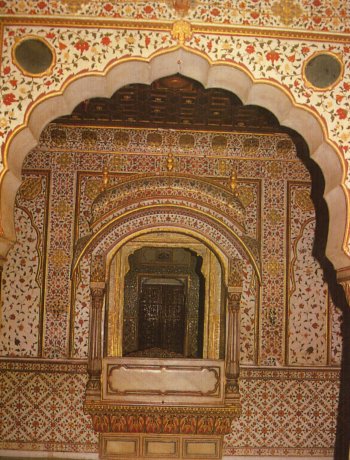 Lalgarh Palace Decor
Junagadh Fort, Rajasthan
But the most unusual sight in this area is the temple dedicated to Karnimata. This temple is in Deshnok town, thirty kilometers form Bikaner on way to Jodhpur.
Hemant Kumar/Kamat's Potpourri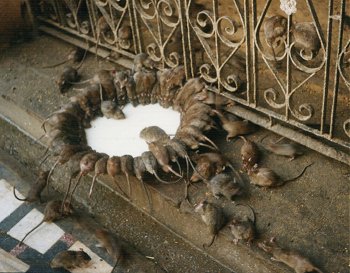 At the Temple of Rat, Bikaner

Rat-rule in Camel-country!
Mother Goddess is worshiped throughout India in various local forms. They are considered different incarnations Parvati, Consort of Shiva. Karnimata, the tutelary deity of Bikaner kings, is worshipped as incarnation of Durga or Parvati. It is only due to her blessings, it is believed, Rao Bika became the first king of Bikaner state. Rats reign roosts in the temple. Thousands of mice, big and small run everywhere freely and fearlessly. Temple priests warn tourists, not to tread on them. Devotees feed these rats with milk and sweets Devotees believe that the rats form the army of Karnimata. The temple is full of awe-inspiring rats of all color. Sighting of a white rat is considered auspicious and tourists flock the temple for its unusual attraction.
Hemant Kumar/Kamat's Potpourri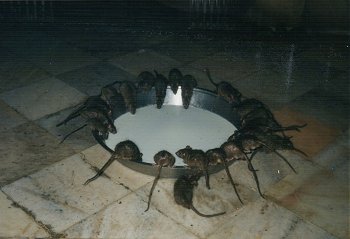 At the Temple of Rat, Bikaner

All the kings including late Maharaja Karni Singh of Bikaner were great devotees of Karnimata, who has protected their land from epidemics like cholera, small pox, and plague over the centuries. This temple built of marble, has silver doors of fine filigree work with images of various deities embossed on it. If one can bear the sickening smell of rat-dung which is cleaned frequently, the running about, dance and antiques of fearless rats could provide lot of entertainment.
During Navaratri festival (nine day- festival which comes in September-October) the fair is held in honor of Karnimata and devotees from far and wide participate in worshipping and singing hymns.

See Also:
Temples of India -- Detailed discussion on the history, and stylistics of some of the great temples of India.