Tourism: Searching for Kamasutra
by Vikas Kamat
First Online: May 04, 2008
Page Last Updated: January 10, 2018
One of the most fascinating times you can have in India is to become a student of anthropology and search for art and life inspired by the famous treatise on sex (actually there are many such works, Kamasutra is but the most famous of them). As a tourist, you can discover these artifacts at almost every nook and corner of India -- you just have to be patient and look for it!
During our own travels, when we start studying or photographing obscure erotic art, we have received enthusiastic response from passers by, who will tell us about more such yet undiscovered treasures somewhere else. Our large collections of photographs on Erotic Arts of India were hence collected.
K.L. Kamat/Kamat's Potpourri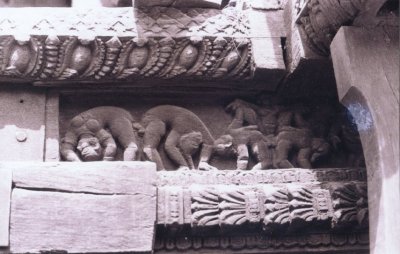 Hidden Sex
An avid student of Indian art will discover erotica in strangest and most obscure of places. Shown above is a panel from the holy temple chariot of Nanjangudu.
Vikas Kamat/Kamat's Potpourri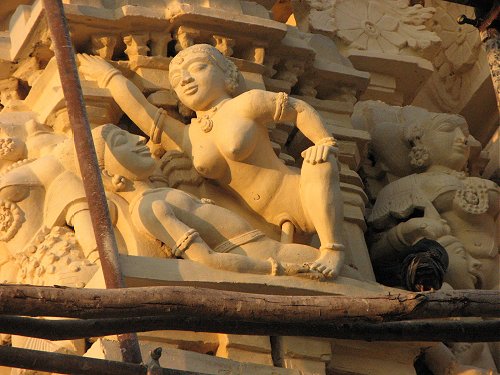 Woman on Top Position
If you are careful to look, you will find sex sculptures everywhere in India
See Also:
Kamat on Kamasutra -- Ever wondered why there are sexually explicit sculptures in Indian temples ? Kamat explains that ancient Hindus gave sex its due importance in the scheme of things