Remembering My Ayee, Sharadabayee (1909-1943)
My son Vikas has been demanding that I write more autobiographical notes. I am starting to jot down some incidents from my life which have had a long lasting effect in shaping my life.
Childhood and My Mother
Loss of my mother at the tender age of six has left a big scar on me which even hurts today, even after 64 years. To have an extraordinarily talented mother and lose her before you could imbibe even elements from her could be a life-long missing experience. I feel that I could have been a better human being under my mother's care and affection.

My mother Bhavani (short form: Bonni, by which name she was known in family circles) came from the Nadkarni family. Her father and my maternal grandpa was a very lowly paid official in civil court of Karwar, translating Kannada appeals into Marathi language. Marathi was the lingua franca of Southern Maratha country of Alur Venkata Rao's time and of which Karwar district formed a part. My granny Lalitabai was a very able, persevering, affectionate and forbearing woman who managed the household, five daughters and two sons, any number dependents who frequented the house. She could marry off three of her elder daughters, of whom my mother was the third. The other two younger daughters died in their early twenties of tuberculosis, for which there was no remedy in those days.

Of the two brothers, the eldest, B.D. Nadkarni, rose to become a famous judge and President of Cooperative Tribunal of Maharashtra State. He headed some important enquiry commissions in that state. The youngest brother Mohan Nadkarni (85 at the time of this writing) is an eminent music critic.

My mother was, I am told, a combination of talents. She had literary flair and wrote poems in Marathi, though her education ended at 5th grade (primary school). She was an expert cook. Very good at several arts and handicrafts like, drawing, stitching, embroidery, tailoring and designing on paper, canvas velvet, woolens, cloth and jute. She had marvelous memory of picking up songs, ideas and handicrafts at the first hearing or seeing. She was a good singer and played harmonium, and had a good collection of Hindi, Marathi, Kannada and other language songs in her repertoire. She could brave any situation and traveled long distances with three kids in row, when traveling was a nightmare with dusty roads and broken vehicles which failed midway, without a warning.

K.L. Kamat/Kamat's Potpourri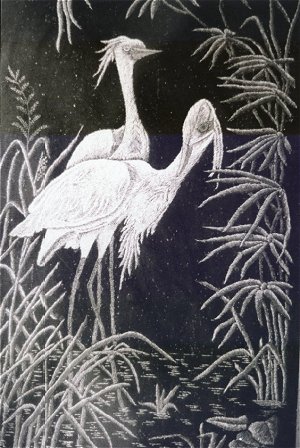 Embroidery Work
Embroidery by Sharadabai Burde (Jyotsna's mother)
Marrying Baba, Ganesh Burde, my father, gave a good boost to her ever-willing and alert nature. Now she was known as Sharadabayee. It was customary for girls to change even their first name after marriage. Baba taught her English, subscribed to women's magazines from London, purchased a Singer Sewing machine, all in his limited salary as a postal worker. My mother learnt swimming, played badminton and arranged many games at the Rashtreeya Seva Dal with my father.
All these achievements may not mean big these days. But 75 years ago, the Indian society was very conservative and outdoor activities like swimming and playing badminton were considered preposterous and unimaginable, for married women of rural areas. Even today, the thought of my mother playing badminton and swimming in fully swathed nine-yard saree is unthinkable!
Baba, my father, who became a postmaster used to get frequently transferred in small towns of Dharwad and Karwar districts, like Supa, Haliyal, Gudgeri, Kalghatgi, Yellapur and Gadag. The last place was a bigger one and was a cultural center. My brother Prakash was born in Gadag and it was a great rejoicing event. Both my grandparents came to Gadag for the "naming ceremony".
In Gadag my mother received lessons in Hindustani music. A blind guru used to come once a week to teach. But it lasted for a short while. My elder sister Usha had a very sweet voice and flair for music. She had a liking for stitching and embroidery. At the young age of nine, she had knitted socks and a sweater for baby Prakash.
Then Baba was transferred to Hirekerur. Ayee befriended many local women, mainly the Lingayats from whom she learnt special Kannada dishes and handicrafts. She used to prepare Mysorepak for them which was a gram-flour-ghee-sugar sweet at which she excelled. Her nimble hands had that tricky way of mixing all the three at the correct second, which avoided additional grease.
We have a rare memento of our happy times at Hirekerur. Mr. Adiveppa Kubsad, a rich and prominent landlord of Hirekerur killed a tiger which was devouring cattle on the outskirts of the town. In those days, special prize was given for killing wild animals which turned a menace to local population. A photographer was invited all the way from Gadag to take the photograph as there was no studio at Hirekerur. Adiveppa's two wives were good friends of Ayee and we were special invitees to pose behind the dead tiger along with Adiveppa's family.
K.L. Kamat/Kamat's Potpourri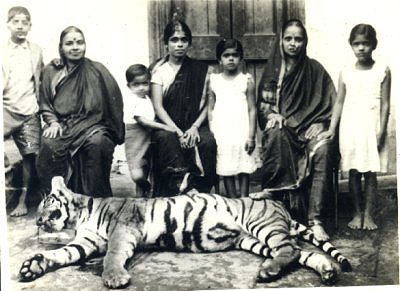 When the Tiger was killed ...
Picture of Jyotsna (third from right) with mother Sharadabai (fourth from right)
Ayee had a small garden where she grew roses, cosmos, jasmine and zenias. In the evening she used to sing devotional songs to the accompaniment of Harmonium and taught us action songs. We had at times picnic and outings. Life could not have been sweeter.
The Tragedy Strikes
Then the tragedy struck. My mother caught typhoid, a deadly disease. It was a period of Second World War. Chloromycetene, had not made its appearance in rural India and the old system of treatment of starving the patients was in vogue, wherein they were kept only on strained fruit juice (a rarity) an whey. This left the patients extremely weak. Ayee's mother came from Hubli to help in the treatment and managing the household. A cook and a maid were there.
One midnight Baba (my father) woke all three of us and took us to Ayee, who was lying listlessly. She was already looking like a shadow very pale with close cut hair and fallen cheeks. She just smiled at us weakly. My father asked me to stroke her frail shoulder and cheek. No kissing was allowed. Ayee had lost power of speech by then. We were taken back to bed.
Early next morning, my uncle B.D. Nadkarni arrived with other relatives from Hubli. A crowd had started gathering in the house. Everybody was sobbing, silently shedding tears and talking in whispers. A daughter of the nurse, who was my classmate called me outside and declared casually "Babi! Your mother is dead!" and went away.
I ran back to the house, and joined my sister and others in weeping, huddled in a corner. My aunt Kuttekka, hugged me and tried to console. "From today I am your mother Babi, don't cry!" -- she said with tears streaming from her eyes.
We never had an occasion earlier to witness death or see a dead body. Now, our dearest mother was dead and gone forever before our very eyes.
The crowd grew bigger. Ayee was dressed in a new saree, flowers and bangles. All Acquaintances came and women applied Kumkum and turmeric. They offered flowers. Widowhood is a curse in Indian society, and the death of woman while the husband is still living is considered a privileged departure. Women offer auspicious things to the departed soul, praying for a similar death.
The last rites are not recorded in my memory. But when the body was finally lifted to be taken to cremation ground, four-year-old Prakash appeared from somewhere and shouted at the four pall-bearers "Where are you taking my Ayee? Leave her here, she is not well!" -- and tried to pull one bearer from behind. Everybody was in tears. An elderly woman quickly lifted him and took him inside, sobbing all the way.
The cremation over, we were taken to Hubli at my uncle's place. I had read a story on Mohenjodaro -- named "The City of the Dead". I was thinking that my mother has proceeded to Mohenjodaro, since she was dead. I kept asking "How long will she remain there? Will she not miss all of us? She has to come back some time, or is she gone forever?", but nobody answered me.
Our orphaned days had started.