Prof. A.R. Krishnasastry (1890-1968)
by Dr. Jyotsna Kamat
First Online: November 22, 2006 in Amma's Column
Page Last Updated: January 10, 2018
Doyen among scholars, who enriched Kannada language and literature, through teaching, writing, researching, translating and editing, Dr. Ambale Ramakrishna Krishnasastry's name is prominent. He was loved and respected by the student community for the affection and concern he had towards them. He was respected and honored for his profound scholarship and erudition by his contemporaries. He spared no pains to share the knowledge he had acquired over decades and he was a great orator as well. That was A.R. Krishnasastry who is even more popular today nearly four decades after his death.
K.L. Kamat/Kamat's Potpourri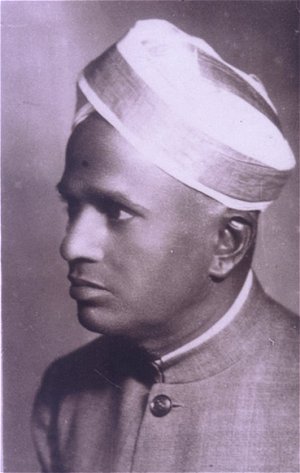 A.R. Krishnasastry
Krishnasastry is most remembered for his classic "Vachana Bharat"
Prof A.R. Krishnasastry's father Ramakrishna Sastry, was a distinguished grammarian and principal of Sanskrit Pathashala of Mysore. His mother Shankaramma died of plague when young Krishna was only Ten. His father did not remarry as was the usual practice and brought up his two sons with great difficulty managing everything in his meagre salary. Krishna learnt cooking at a very young age and accompanied his father to the Sanskrit school. He could answer many questions which the older students could not, though his father never encouraged this youngster's enthusiasm. Krishna wanted to study science. But the Central college of Bangalore was the only place for science studies in those times. His father could not afford the expenses. Prof A.R. Krishnasastry was compelled to study Kannada and Sanskrit for his B.A.(1914).
He started his career as a clerk in Athara Kacheri in Mysore on a salary of thirty five rupees a month. Then he became a tutor and researcher at oriental Library Mysore and appeared for Master's degree of Madras university, in private capacity. Finally he became professor of Kannada and retired in that capacity from Mysore university.
Married at the young age of sixteen, to Venkatalakshamma who was only ten years old at the time, he had his share of sorrows and joys of life. He was very much attached to his two daughters and their children. Some of his disciples like Kuvempu, Tee. Nam. Shri, G.P. Rajaratnam, M.V.Seetharamaiah, K.Venkataramappa and K. Krishnamoorthy are great names in Kannada literature.
He was master of many Indian languages, like Sanskrit, Kannada, Pali, Bengali, Hindi, and German, besides English.
He learnt Bengali by self-study and his work on Bankim Chandra Chatterji the great Bengali novelist, fetched him the Central Sahitya Academy award. His masterpiece on Sanskrit drama, brought out many of the nuances, hitherto unknown, of great Sanskrit plays. Orientalists till then thought that Greek drama was the last word in aesthetics. Masterpieces of Kalidasa, Bhavabhuti, and Bhasa were considered inferior on the 'classical' quality. It was left to Prof A.R. Krishnasastry to bring out the quintessence of Sanskrit drama. It was admixture of epic, poetry-music-dance and acting with spiritual undertone which represented Indian ethos in toto. His intensive study of European theater in this context is scholarly wonder.
His other works includes biography of Ramakrishna Paramahamsa and of Nagamahashaya a saintly disciple of the former.
'Shreepatiya Kathegalu' is a collection of 13 short stories known for deep insight into human nature and a blend of personal experiences and philosophical overtone it was a trend setter.
But it is through Vachanabharata, Nirmalabharati and Kathamrita, that Prof A.R. Krishnasastry won the heart of millions of Kannadigas, old and young alike. Nirmalabharati and Vachanabharata are a masterly condensation of the Mahabharata, the timeless epic. Kathamrita is collection of stories from Kathasaritsagara, ocean of short stories, huge anthology of hundreds of fables, fairy-tales and stories in Sanskrit. This 11th century classic in Sanskrit by Somadeva has provided themes to innumerable young writers over the centuries.
I cannot help mentioning my personal experience of Vachana Bharata. Baba, my father (Ganesh Vishweshwar Burde) a great story-teller, brought 'Nirmalabharati' specially written by Prof A.R. Krishnasastry for kids. Our son, Vikas who was six, gulped down the stories in no time. Then Baba brought "Vachana Bharata". It became a favorite story book with Vikas till he was 10-12 years old. He used to read it every night, thus saving the trouble to three story-telling elders in the house, who by then had exhausted all stories in their store.
"Vikas never studies! After evening meals if the children are advised to study, he takes a bulky book and falls asleep reading it. I am father of six children. I have not seen any of my children reading such a fat book! when they were in the 3rd grade. He must be reading a story book!" complained the elderly relative, who came visiting. That "fat" book was Vachana Bharata. Even now Vikas proudly remembers the influence that book had on him over years. He used to narrate, reproduce, and enact scenes from that piece, as a kid.
'Kathamrita' has an exhaustive and well studied introduction of stories in Indian and western tradition. Dr. Sastry gives gives a good taste of famous legends and fairy tales like Vetala-panchavimshati and Pancha-tantra, which are considered world classics. He has thus left glimpses of the rich Sanskrit heritage to Kannada readers.
It is noteworthy that all the later works mentioned above were written only after his retirement. Though his health was failing, he kept writing four to six hours daily, foregoing even afternoon rest. He led rishi (hermit) like life and left behind a rich tradition of translations.
He was the editor of "Prabuddha Karnataka" a versatile periodical of Mysore university for years from its very inception. He was accorded honorary D. Lit. of Mysore university. He died at the age of seventy-eight in 1968 leaving behind a trend-setting scholarship.