My Golden Years in All India Radio
First Online: April 24, 2006 in Amma's Column
Page Last Updated: May 09, 2017
Recently, All India Radio (AIR) station of Bangalore, celebrated its Golden Jubilee year. I was cordially invited along with several others, to broadcast my experiences as a Director of this capital radio station. I had the unique distinction of working at this place for nearly six years. I had worked in eight other stations earlier, in programming and administration. These places spread in different parts of India - North (Jaipur), West (Mumbai), East (Kolkota) and South (Mysore) - have helped me to understand my country better. I learnt Hindi, Bengali, and Marathi languages in addition to a couple of dialects of Hindi. This helped me communicate better with locals. It also helped me with a closer look at Indian ethos.
I must say that it was a fulfilling experience, on the eve of my retirement, to work in Bangalore where Kannada is the regional language and my own language of expression. It may not be out of place, if mention is made of the "Rajyotsava Award" (Gold Medal) given to me for the year 1991 by the local Government for promoting Kannada language and culture through the electronic media!
Working at a Centrally controlled (federal) agency at regional centers could be quite challenging. Many a time, in India the governments at the Center and various States are headed by different political parties. As a liaison Officer between the Central and State governments (though never formally recognized as such) a Radio-director's role could be delicate and precarious. It calls for lot of tact, patience, presence of mind and quick decisions. In those years when television was far away, radio was the most important medium of mass communication. It was very popular and brought bouquets and brickbats alike to us workers. Though we ourselves remained `invisible', we received sound thrashing (on paper!) from the Directorate for any unknown fault that affected public and state relations.
K.L. Kamat/Kamat's Potpourri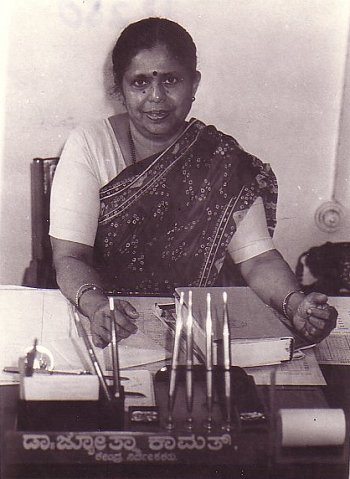 Jyotsna in her Office at All India Radio

Like other government departments AIR also suffers from strait-jacket bureaucracy, babudom, passing on the buck and several other hurdles. But then there is another beautiful aspect: the world of music, drama and spoken word closely associated with it. The wonderful world of programmers calls for ever-resourceful and imaginative planning and production. Even if the person who heads the radio-station has ideas for programs, he or she requires proper funds and a band of enthusiastic workers to give a concrete shape to such abstract ideas. Fortunately I had both, during this period.
Information, education and entertainment are the motto of broadcasting in India. Majority of listeners lack literary education. Hence such programs are to be planned which could appeal to them as well as to the elite. During my stint as the Director several programs were broadcast in collaboration with State departments of Forestry, Environment, Family Welfare, Agriculture and Social Welfare. The Directorate was happy and issued a circular to all the ninety stations of the country, to emulate the example of AIR Bangalore!
Several new experiments were tried. A simple and `homely' example could be quoted. It was `Kitchen-Orchestra.' Traditional Indian Kitchenware was used to produce sound, resonance, rhythm and music. The simple implements used for pounding, grinding, churning, rolling, sieving, washing and drawing water among which Indian women spend their lives were used. Soft touches of music and percussion were skillfully added. It was a rage. Many women's associations made the program their own. This program named "Dudita-Midita" ("Toil and Tune") in Kannada was produced in entirety by a women's group which staged several shows in India and abroad! It also brought home the unique medium of radio is very effective in spite of development of other forms of electronic media.

See Also:
Memoirs of Mysore -- Jyotsna Kamat recalls experiences as a Central Government employee trying to make peace with angry local activists in Memoirs of Mysore
The Voice Behind the Voices -- Tribute to Jyotsna Kamat in "Star of Mysore" after her transfer from Mysore Akashavani.